Posted July 28, 2017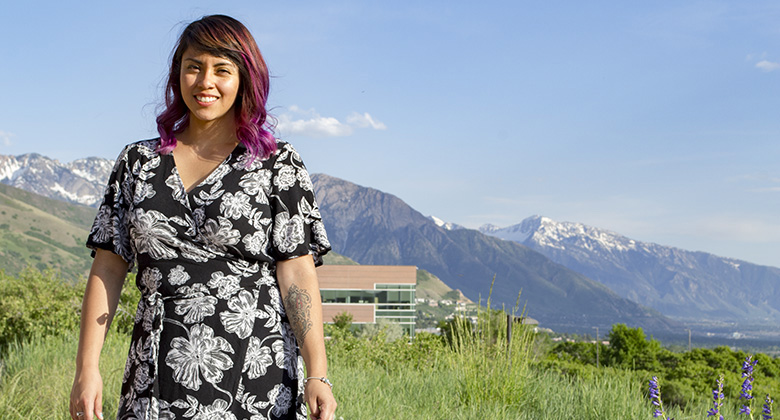 Photo of Lola Reyes by Michael Mozdy. © NHMU.
By Michael Mozdy
Lola Reyes is confident, bright, and extremely well spoken. She holds a Master's degree in 3D animation and an enviable position as the Resident Tech Integration Specialist at the Leonardo Museum in Salt Lake City. You'd never guess that she once was failing all of her classes except art and doubted that she could graduate high school.
What turned it around for Lola? Certainly her inquisitive spirit and courage have a lot to do with it, but she'd be the first to tell you that the Natural History Museum's Youth Teaching Youth (YTY) Program was hugely influential right when she needed it.
"The YTY staff saw that I was a leader inside, and pushed me to take on leadership roles and go outside of my comfort zone," she relates. "YTY gave me the confidence to be a leader."
Attracted by Exciting Adventures
Born and raised in Salt Lake City, Lola comes from a large Mexican-American family. Her father lived in Mexico with the oldest of her 10 siblings, while she, her sister, and a cousin lived with her mom in the Central City neighborhood. At the age of 10, they moved to the Glendale neighborhood. Her hard-working mother raised the three girls as a single mom and encouraged them to get the education that no one else in the family had yet achieved.
With her mother working two jobs, Lola found herself with lots of time after school yet little money to spend. In middle school, she joined one of her best friends in sampling a few after-school programs in her area, and soon found out about NHMU's YTY Program. She started in the program as a 7th grader.
While Lola thought YTY would be just another after-school program she'd try out and then move on, she was immediately drawn to it in ways she hadn't been to others. "Initially, we were looking for a way to stay out of trouble, but I liked this program because of all the cool trips they were doing," she admits. "These were things I had never done before – skiing, hiking in southern Utah, even just hiking in the mountains around Salt Lake City."
She soon learned that YTY is more than just fun and field trips. Seventh graders are expected to start teaching and mentoring 4th graders in science education topics. They are taught the curriculum for a series of lessons, and are asked to help lead groups of younger students in science activities.
This was around the time Lola was not doing well in school, and she wasn't quite prepared to be teaching others. "I was intimidated and it was a bit confusing, but you jump into it," she remembers. "You learned speaking skills, and the kids looked up to the older kid mentors, so the attention was all on you."
This is a central tenet of the YTY program: that leadership and teaching opportunities are critical for growth, maturity, critical thinking, and much more.
Retained by Care
Lola's confidence as a leader began to grow as she taught younger students. She loved working in the museum, and carried her sketch book everywhere – dinosaur galleries or hiking in the foothills. The YTY staff noticed, and as they learned about her art talents, talked to her about art shows. "I was scared to enter art shows," she recalls, "but they encouraged me."
Within the year, the YTY program staff was going to the state capitol to talk to lawmakers about their program, and they chose Lola along with a few other participants to accompany them. Lola was very nervous and felt unqualified to go, but the YTY staff encouraged and coached her. "They had so much faith in me," she recalls fondly. "I couldn't say no, and in the end it was a great experience."
Before long, Lola had turned around her grades in school, and she chalks it up to YTY. "The leadership role they gave me drove me to believe I was smart. You gain the confidence that you're smart enough to problem solve; you know where to get help when you need it," she explains. Lola found herself approaching teachers after class to ask questions and clarify assignments – something she would never have done just a year earlier.
Even though she didn't consider science one of her strong subjects, the many layers of science education in the YTY program grew on her. She recalls teaching younger kids about the rock cycle and water cycle, among other things. Being put in the position of teacher kindled in her a deeper curiosity and seriousness about knowing the science. "I remember going skiing with YTY," she says, "and sitting there in a snow bank in the freezing weather to look at layers of snow. I loved it, although I wouldn't dare tell my friends because I wanted to be cool!"
Each activity in YTY is designed to integrate several objectives: leadership, science education, confidence-building, mentoring, and the joy of excursions. One example of this type of rich experience stands out in particular for Lola. "My first plane ride was with YTY," she marvels, "when I was 14 years old, we went to St. Louis for a conference." Lola was one of the youngest of the six YTY teens who went to Today's Youth, Tomorrow's Educators, a conference sponsored by the Association of Science and Technology Centers. Lola was horrified at the first activity, however. "We got off the plane and they made us take the ACT all together." She felt about as unprepared as a student could be for this test, and when attending workshops throughout the week with other students from across the USA, she was haunted by a sinking feeling of how badly she performed on the ACT pre-test. She was especially awed by some of the older kids, including one boy from the east coast who seemed very impressive. At the end of the week, the conference participants were told their score, and to her great surprise, she didn't fail horribly. In fact, her score was actually better than that impressive boy who had captured her attention. "I couldn't believe it," she remembers with a laugh, "I really gained a lot of confidence from that."
As she reflects on her experiences from 7th-12th grade in the YTY program, Lola believes something else – something a bit deeper – was at play. "I wasn't aware of it then, but they cared about me. My mom worked two jobs, and the YTY staff really showed an interest in me – an interest in helping me gain confidence and leadership." Lola believes that this fundamental caring – above and beyond the science education and the leadership opportunities – is what motivated her and her younger sister to stay with the program for so many years.
Lola points to one of many examples of how YTY staff showed her they cared for her. She had heard of an internship at the Clark Planetarium that she greatly desired, but she didn't know where to start in applying and getting it. One of the staff at the time, Christine, worked with her on her application and helped her obtain the internship. It turned out to be her first introduction to 3D software, something that proved to be very influential several years later.
By 12th grade, it was clear that Lola had grown into a shining example of what a teenager can do as a mentor and leader. Linda Aaron, NHMU's Youth Development Programs Coordinator, asserts, "Lola was a natural leader who had such a positive influence on her fellow YTY program participants. She exemplified determination and persistence, balancing academics, extracurricular activities, family responsibilities, and work."
But Lola wasn't done impressing us.
Propelled Beyond High School
Lola's confidence grew by leaps and bounds in high school. She became the co-president of the Latino/Latina Club at East High. She was a yearbook editor. In addition to sticking with YTY, she joined ROTC and the track team. Clearly, she had a busy schedule outside of school.
Yet when Lola talks about going from high school to the University of Utah, the first word she uses is "horrifying." This is because she was the first in her large family to get a high school degree, much less attend college (her younger sister is also now a college graduate). All of her activities, passion, and dedication in high school paid off when she was one of just two people to be awarded a full-ride Chicano Scholarship. She was able to live on campus and have what she calls the "full college experience."
That didn't make her path to her Bachelor's Degree in film and media arts an easy one. She had planned to go into graphic design, but didn't make the cut. "I felt like it was the first big failure of my adult life," she laments. "It was devastating." When a faculty member asked her about her true passion, Lola did some soul searching and realized she wanted to be an animator. The U had just started offering 3D animation classes, but she was daunted. "I had never used a camera – we couldn't afford one growing up," she confesses. "I was super scared but it turned out it was the best decision I ever made."
After her Bachelor's Degree, Lola felt like she needed more hands-on experience in the field, so her next big decision was to attend the Academy of Art University in San Francisco. Overcoming fear, something she started doing in the YTY program, is a recurring theme in Lola's life. "Graduate school was so challenging, so scary," she relates. "I had to take these art skills and really apply it to technology. It was like learning a new language."
After several years, a few tries at her thesis proposal and her thesis presentation, and a female faculty mentor who helped her finish her degree remotely back in Utah, Lola had overcome many obstacles to realize her Master's Degree in 3D Animation. She also had a brand new daughter and a re-connection with her family in Utah.
About a year later, Lola decided to enter the workforce in what she first considered to be a temporary gig along the path to her career goals. "But working at the Leonardo felt like home almost immediately," she laughs. "Science, art and tech all in one place – I couldn't believe it!" Lola wrote curriculum for their animation summer camps and loved the experience of once again teaching young students. She enjoyed seeing the looks on their faces when they made something for the first time. "I really needed that inspiration, that pick-you-up."
Lola soon took on the coordination of the high school-age robotics team, and she "fell in love with these kids." Seeing how the kids responded to Lola's instruction and knowledge, the leadership team at the Leonardo steadily realized what an asset they have in her. She was asked to write curriculum for the robotics program and the robotics summer camp.
This fulfilling path from student to expert and teacher has given Lola plenty of time to reflect on how she got where she is. She recently had a moment to sit down with the director at the Leonardo, who asked about her vision for the robotics program. Lola explains, "The funny thing is, I realized that the students needed to mentor each other, just like YTY. I told the director all about YTY and said we could apply it to robotics. We should have a K-12 mentoring program and have them meet here at this hub and mentor each other all the way into college."
There is perhaps no greater testimonial for the power of the YTY program than to have a graduate-turned-professional regard it as the gold standard to emulate in other, similar youth programming.
The Leonardo supported her vision, and Lola recently wrote a grant proposal to fund it. She is looking to serve under-represented youth, girls, and refugee students – people not unlike her and her sister.
Lola's story and her commitment to giving back throughout her career is an inspiration to the NHMU staff, who hold her in the highest regard.
Linda Aaron sums up Lola's contributions: "Her impact as a role model – both directly and indirectly -- didn't stop with her graduation from the program. She helped mentor YTY middle schoolers as a Museum staff member during her first year at the University of Utah, and she is renowned for being one of the first YTYers to get a graduate degree – the other one being her younger sister!"
Note: Lola tells us that her sister, Claudia, is now a social worker and was also very impacted by YTY. She also felt that the YTY staff cared for her personally, and that made all the difference.
Michael Mozdy is a Digital Science Writer for the Natural History Museum of Utah, a part of the University of Utah in Salt Lake City. Our mission is to illuminate the natural world and the place of humans within it. In addition to housing outstanding exhibits for the public, NHMU is a research museum. Learn more.