Utah Master Naturalist for Teachers: Desert Explorations 2023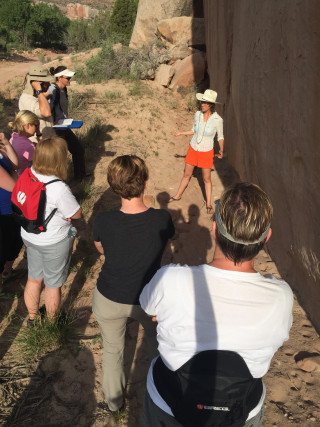 Registration for fall 2023 has closed, stay tuned for future Utah Master Naturalist Courses!
In collaboration with the Utah Master Naturalist program, NHMU educators are providing an opportunity for teachers to learn more about Utah's unique and beautiful ecosystems. In the first of three workshops being offered this school year, teachers will be spending three full days in southern Utah exploring the great desert ecosystems our state is well known for. Prior to this workshop weekend, teachers will be required to complete an online training portion of this course which will be emailed in advance.
While many of the upland systems in Utah, such as the Colorado Plateau, Great Basin, and Mojave Desert, vary in plant and animals communities, they all share common features: low precipitation resulting in arid or semi-arid deserts, relatively high elevation, and climatic extremes including hot summers and/or cold winters. As a result, the plants and animals of these areas possess extreme adaptations for survival. Come join us while we camp out at The University of Utah's Rio Mesa Field Station near Moab, Utah where we'll explore these systems and learn about how they function, the plants and animals that live there, and how they are managed. Class size is small in order to maximize your opportunities for learning and having fun!
WHAT YOU'LL WALK AWAY WITH:
Teachers will earn 1.5 USBE credits for attending the field trips, and have the opportunity to be certified as a Desert Master Naturalist if they complete the online course. (Opportunity for Continuing Education credit through USU also available.) Preference for the next two Master Naturalist workshops will be given to those who attend this one.
More information about the Utah Master Naturalist program can be found at: www.extension.usu.edu/utahmasternaturalist/
When: Friday-Sunday, September 29 to October , 2023 (2 nights and 3 days)
Who: K-12 public school teachers in Utah
Cost: FREE - food, transportation, and accommodations will be provided
Registration has closed, stay tuned for future Utah Master Naturalist courses!
PLEASE NOTE:
Due to the nature of the Desert Exploration course, we will be camping in an off-grid wilderness space. Day activities will include walking and hiking over uneven, often rocky, terrain in unpredictable weather. Participants should be comfortable hiking at least 2 miles in a single day. While we do our best to accommodate people of all abilities, attendees will need to be comfortable with these accomodations.
Accommodations:
You will have the opportunity to stay in one of the cabins at Rio Mesa, each of which is equipped with two or three cots.  This means everyone will be sharing a tent with one other person. There is also plenty of room adjacent to the cabins for individuals to pitch their own tents if they like. The Rio Mesa Center also has a shower/bath house and shade pavilion that will be open for our use during the program.
Basic Details:
We will depart from the Natural History Museum of Utah at the University of Utah on Friday morning in Museum vehicles.  It is approximately a 4 – 5 hour drive, so we will plan to arrive at Rio Mesa Center on Friday evening.  We will depart Rio Mesa Center on Sunday afternoon and arrive back at the Museum on Sunday evening.
All your meals, with the exception of lunch on our departure day, will be covered by Museum funds.  If you have any special dietary restrictions or allergies, please let us know in advance.
Since we will be camping in a remote location, cell phone service is limited.
If you have questions or concerns about the activities required please contact Patrick Cunningham, pcunningham@nhmu.utah.edu