Saturday, September 18, 2021 -

10:00am

to

1:00pm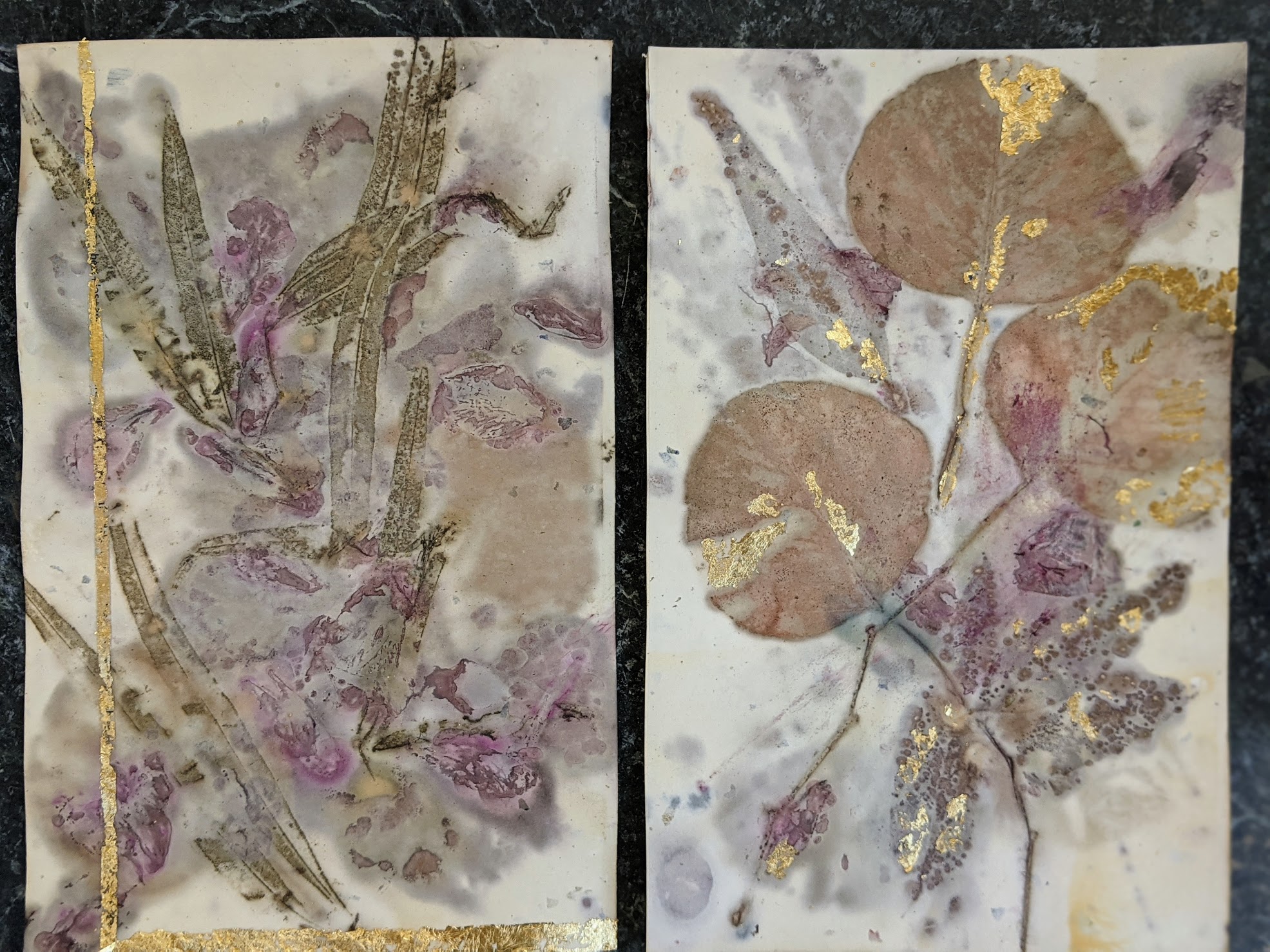 About this workshop:
Learn to make beautiful botanical prints on paper in this virtual NHMU Craft Workshop presented by Craft Lake City! Part art, part science, and part mystery, this workshop is designed to introduce attendees to eco printing. Students will follow along on Zoom from their home kitchens as instructor Sunny Smith walks through the steps of preparing the cotton paper, selecting leaves and flowers for striking results, and using different techniques for eco printing projects. After steaming the botanical bundles, students will unveil their creations to discover what the plants have expressed during their alchemical journey. As they dry, Sunny will discuss the history of gold beating and the origins of alchemy in Alexandria, Egypt. At the end of class, attendees will add finishing touches to their botanical masterpieces with gold leaf embellishments.
This workshop will be held virtually on Zoom. Attendees will have the opportunity to interact with the instructor in real time, gaining feedback and guidance as they create in their personal kitchens.
Non-Member Registration Fee — $40
Member Registration Fee — $36
Sold Out
About the artist:
Sunny Smith is the owner of Temple O Flora, a practice that weaves together plants, art and alchemy. She works in deep connection with plants and traditional processes, and in alignment with natural cycles and seasonal rhythms. Temple O Flora was created to explore and teach botanical arts, primarily through the mediums of fiber and fragrance. Sunny's journey began with plants through horticulture and herbalism, and she expanded into practicing aromatic distillation, incorporating natural perfumery and engaging in natural dyeing and botanical printing techniques. She is deeply interested in how plant medicine, aromatics and alchemy intersect with ceremony, ritual and art in healing.
Supply Kit:
This virtual workshop includes a supply box, available for pickup from the Craft Lake City/SLUG Magazine office (located on the west-facing side of the Artspace City Center complex at 230 S. 500 W. Suite 125, Salt Lake City, UT, 84101) on Friday, September 17, 2021 between 11:00 a.m. and 6:30 p.m. The supply box will include:
Rubber bands

Tile

Sheets of paper (5" x 5")

Alum - 2 tsp pp

Iron - 2 tsp pp

Face mask

Gloves

Stir stick and cup

Trays for mixing (2 trays pp)

Natural materials (leaves, onion skins, dried flowers, eucalyptus)

Gold leaf and adhesive

Brush



At Home: To successfully attend this workshop, be sure to have the following items prepared at home:
Computer or tablet

Strong internet connection

Clean work space

Cooking vessel

Stove top or hot plate

Sink

Hot pads or mittens

Tongs

Hair dryer

Additional plant materials (optional)

Clamps and string or wire for hanging to dry (optional)

White Vinegar
---
Presented by Craft Lake City and the Natural History Museum of Utah.
Click here for more NHMU Craft Workshops
​Museum admission and materials included