Wednesday, November 3, 2021 -

6:30pm

to

8:30pm
About this workshop:
Explore ancient Egyptian incense in this virtual NHMU Craft Workshop presented by Craft Lake City. Follow along on Zoom as we discover the rich history and significance of kyphi, an aromatic offering in the lives of people in Ancient Egypt. Participants will examine a translated hieroglyphic recipe for incense found within temple walls and learn about many of the raw materials used through the kingdoms.
Instructor Sunny Smith will then guide virtual attendees through the process of constructing their own version of a kyphi formula from the comfort of home, utilizing traditional materials as well as some bioregional ingredients wildcrafted in Utah. Attendees will warm handmade kyphi incense over charcoal in a ceramic cup created by Mean Mugs Pottery. Finally, attendees will use some of their new kyphi to create an infused oil. This program is inspired by the current NHMU exhibition, Egypt: The Time of Pharaohs.
This workshop will be held virtually on Zoom. Attendees will have the opportunity to interact with the instructor in real time, gaining feedback and guidance as they create in their personal kitchens.
Non-Member Registration Fee — $40
Member Registration Fee — $36
About the artist:
Sunny Smith is the owner of Temple O Flora, a practice that weaves together plants, art and alchemy. She works in deep connection with plants and traditional processes, and in alignment with natural cycles and seasonal rhythms. Temple O Flora was created to explore and teach botanical arts, primarily through the mediums of fiber and fragrance. Sunny's journey began with plants through horticulture and herbalism, and she expanded into practicing aromatic distillation, incorporating natural perfumery and engaging in natural dyeing and botanical printing techniques. She is deeply interested in how plant medicine, aromatics and alchemy intersect with ceremony, ritual and art in healing.
Supply Kit: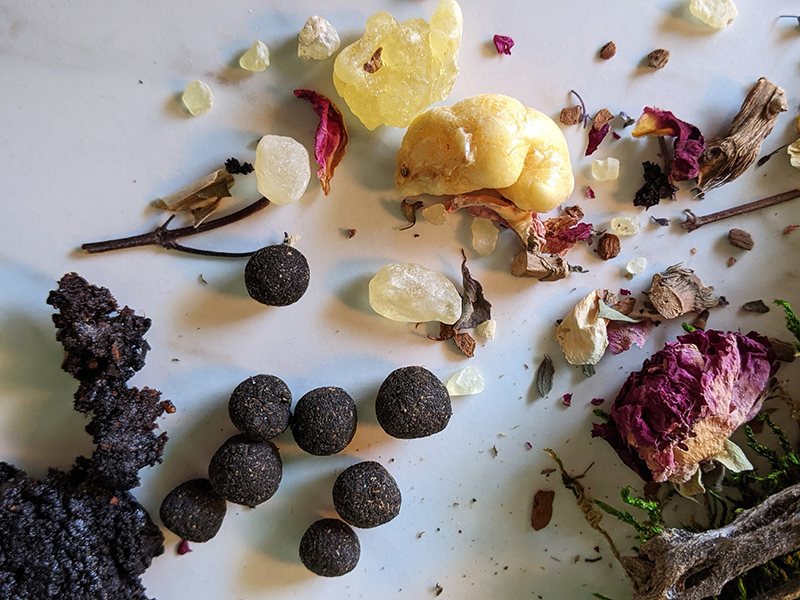 This virtual workshop includes a supply box, available for pickup from the Craft Lake City/SLUG Magazine office (located on the east-facing side of the Artspace City Center complex at 230 S. 500 W. Suite 125, Salt Lake City, UT, 84101) on Tuesday, November 2, 2021 between 10 a.m. and 6:30 p.m.

The supply box will include:
Glass bowl/jar with lid (note: jar will differ from the photos)

Small ceramic bowl (note: bowl will differ from the photos)

Resins

Charcoal

Tin foil

Sand

Mixing spoon

Honey

Other incense ingredients
To successfully attend this workshop, be sure to have the following items prepared at home:
Computer or tablet

Strong internet connection

Clean work space

Olive oil (1 cup)

Lighter or Matches

Pot Holder
Mortar and pestle (or a cutting board and a blunt object like a hammer, rolling pin or mallet).
---
Presented by Craft Lake City and the Natural History Museum of Utah.
Click here for more NHMU Craft Workshops
​Museum admission and materials included