Saturday, July 9, 2016 -

10:00am

to

5:00pm
Natural History Museum of Utah | Rio Tinto Center | 301 Wakara Way, Salt Lake City, Utah 84108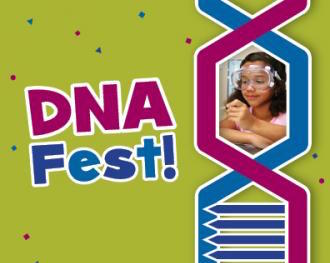 Join us for a family-friendly Saturday at the Museum where you can take a deeper dive into the fascinating world of DNA and genomes!!
Meet local DNA experts and learn about genetic research through hands-on activities:
Extract your own DNA

Create beautiful art with a micropipette (a tool used by scientists to deliver small volumes of liquids)

Make and take home a nucleotide necklace

Explore DNA transcription with Lego® bricks

And just for fun, get your face painted — DNA style!
A sampling of the amazing scientists you will meet
Elisabeth Conradt

U of U Department of Psychology

How the environment can impact gene expression

Louisa Stark




U of U Genetic Science Learning Center

Dr. Cheenu Shrinivasan

Mouse genetics/brain pain signals

Emily DiBlasi

U of U Department of Biology

Tracing the movement of individuals from one place to another

Richard Clark

U of U Department of Biology

Genomic studies on plants and animals

Sandra Haddad

Bay Path University

DNA and forensic science

Representatives from

Myriad Genetics

Myriad Genetics

Changes in DNA

Heather Sarin

Utah Health Department




Genetic counciling

Mary Anne Karren

USTAR Center for Genetic Discovery

Taxonimer

Kelsey Rogers

U of U Department of Human Genetics

Virus evolution

Yi Qiao

Eccles Institute of Human Genetics

Tumors

Michelle Knoll

NHMU Anthropolgy

Ancient DNA
DNA Fest includes an adult-oriented lecture


Seeking a Killer with Matt Might
2 p.m. in the Swaner Forum, Level 5 at the Museum
Matt is an advisor for the White House Precision Medicine Initiative and an Associate Professor, Computer Science at the University of Utah. Not long after earning his Ph.D. in computer science, Matt Might and his wife Cristina had their first child, a son they named Bertrand. After a few short weeks, Matt and Cristina began to worry that something was wrong as their newborn seemed to be in near constant distress. Read more about Matt's family's story here.