Wednesday, September 19, 2018 -

7:00pm

to

8:00pm
Natural History Museum of Utah | Swaner Forum
About the Field Work Program
Get your fill of science and poetry with this flourish to a familiar program. We have paired scientists and poets to explore topics together through the lenses of their respective disciplines. Join us for our first-ever Poetry-Science Café series and savor in a unique pairing that these experts have prepared in an informal, interactive café-style setting. Experts will dish out their take on a topic, scientific and poetic, as a pair in 20 minutes or less. After both pairs have presented, all experts will take the stage and engage the audience in a lively group discussion and Q&A.
The Poetry-Science Cafe is a part of Field Work: Aligning Poetry & Science, a multi-city hybrid art and science program aimed at fostering STEM learning through poetry. Under this unique project, Poets House, the 70,000-volume national poetry library in New York City, will work with Salt Lake City Public Library and the Natural History Museum of Utah as well as other institutions across the nation to engage broad audiences in a range of interactive programs that "humanize" the language of science through multiple collaborative language arts experiments.
Included in Museum admission, free to Museum Members and University of Utah faculty, staff, and students with a current U ID.
Light refreshments will be provided.
---
September Scientists & Poets
Randy Irmis, Paleontologist, NHMU & Michael Sowder, Poet, Utah State University
Shannon Arnold Boomgarden, Archaeologist, NHMU & Paisley Rekdal, Utah Poet Laureate
---
Scientist & Poet Bios
Dr. Shannon Arnold Boomgarden is the Assistant Director of the Range Creek Field Station and Director of the Department of Anthropology's Archaeological Field School. Dr. Boomgarden began working in archaeology nearly two decades ago and has been involved in Range Creek since the early 2000s.
Paisley Rekdal is the author of five books of poetry and three works of nonfiction. Her work has received the Amy Lowell Poetry Traveling Fellowship, a Guggenheim Fellowship, an NEA Fellowship, a Fullbright Fellowship, and various state arts council awards. She teaches at the University of Utah and is Utah's Poet Laureate.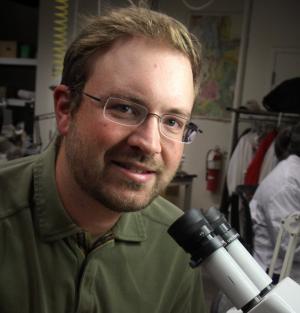 Randy Irmis
is the Natural History Museum of Utah's Chief Curator, and Curator of Paleontology. His research asks how vertebrate animals living on land evolved through deep time, particularly in response to climate change and other events. He has been recognized with many academic awards and honors throughout his career.
Michael Sowder
is a Professor of English and Religious Studies at Utah State University. His writing explores themes of wilderness, fatherhood, Buddhism, yoga, and spirituality. His work has appeared in
American Life in Poetry, Five Points, Shumhala Sun, Lion's Roar, Green Mountains Review, The New York Times Online
and more.
---
Presented in partnership with: