Scientist in the Spotlight: Paleoecologist
Event Details
Free with museum admission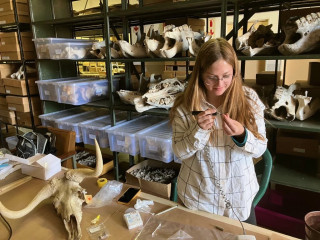 Discover what it's like to be a paleoecologist. Join Kathryn Sokolowski to explore ancient animals in South Africa. See and touch animal teeth, fossil casts, and lab equipment used to determine the diets of extinct animals. Try your hand at being a paleo-detective by identifying fossils and figuring out what these animals may have eaten.
Scientist in the Spotlight is held on the first and third Friday of each month from 2–4 p.m. in the Naturalists Lab. The program allows Museum guests to meet real scientists and discuss their research. See link below for additional scientists in the series.
Included in Museum admission, free to members and University of Utah faculty, staff, and students with a current U ID.