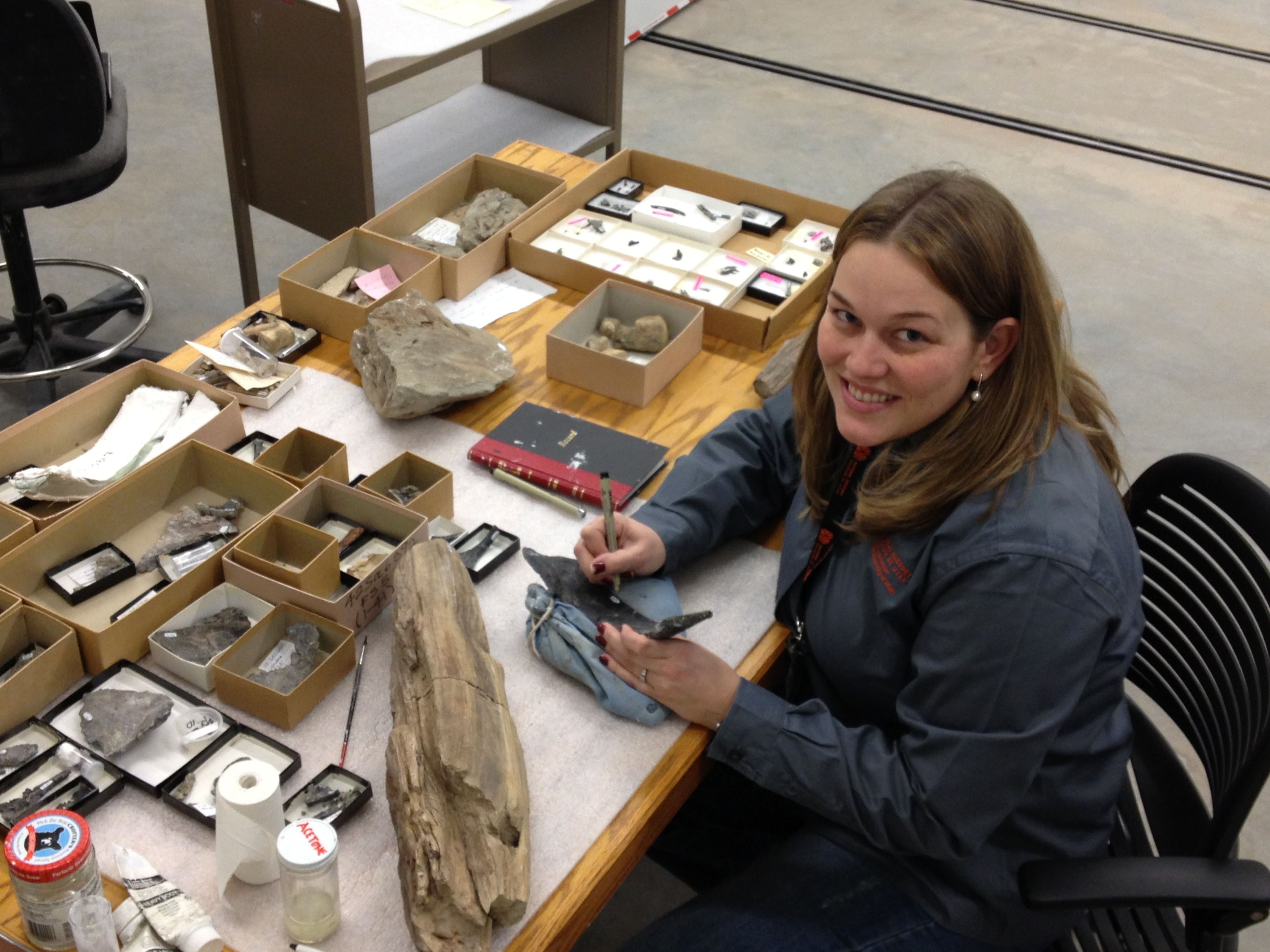 Paleontology Collections Manager
Areas of Expertise
Paleontology
Collections Management of over 50,000 Specimens
Ceratopsian Dinosaur Metabolism and Growth
Bone Histology
Background
Carrie Levitt-Bussian manages the organization of more than 50,000 paleontology specimens, which include vertebrate, invertebrate and paleobotanical fossils. Levitt-Bussian is in charge of every specimen that comes into and goes out of collections and also works in the field from March to October to find dinosaurs and other Mesozoic animals that could contribute to research and collections in the Paleontology department. Levitt-Bussian arranges, organizes and inventories all donations and repositories that enter collections and determines which specimens go on exhibit or on loan. She supervises the inventory of these specimens and then imports the associated digital data into EMu, the collections management database system. Some of her other current duties are to curate, number and house all specimens, making sure they are organized in the collections chronologically, taxonomically and anatomically. Levitt-Bussian supervises six interns and 16 volunteers.
Levitt-Bussian's expertise is in ceratopsian limb bone histology studying how animals, like triceratops, grew and what their metabolism was like when they were alive. Her specific area of focus rests on dinosaurs from the Campanian Kaiparowits Formation in Southern Utah. She also studies bone histology of hadrosaurine (duck-billed) dinosaurs.
Levitt-Bussian started working on research at the Museum in 2009 when she was in graduate school at the University of Utah. She worked as a Research Assistant from 2009 to 2012. She served as the Assistant Collections Manager from 2012 to 2013, prior to securing her current position as Paleontology Collections Manager. She frequently works with Dr. Randall Irmis, Curator of Paleontology, and Tylor Birthisel, Prep Lab Manager, conducting research and field work in the Paleontology department. She advices undergraduate students on their research and offers job shadowing opportunities to the public. She also interacts with the community opening paleontology collections twice each year during DinoFest and Behind the Scenes, as well as when giving tours and presentations to the public.
In 2018, Levitt-Bussian received the prestigious Linda K. Amos Award for Distinguised Service to Women, an award that recognizes a female staff or faculty member of the University of Utah who has selflessly given time and energy to improve the educational and/or working environment for women at the University.
Levitt-Bussian received a B.S. in geology, with a paleontology emphasis, from the University of Wisconsin-Madison. She received a Masters of Science in geology and geophysics from the University of Utah.