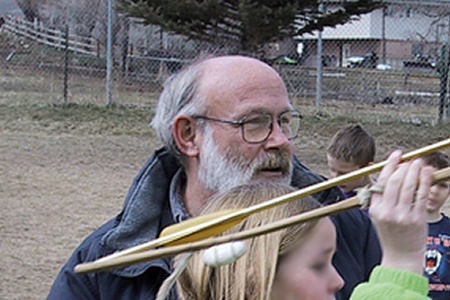 Curator of Archaeology and
Assoc. Professor, Anthropology, U of U
Areas of Expertise:
Anthropology/Archaeology Collections
Range Creek Canyon
Fremont Culture
Archaeological Field Work, Method and Theory
Archaeology of the Great Basin/Colorado Plateau
Background
Duncan Metcalfe began his professional career at the University of Utah 24 years ago. He is the curator of archaeology for the Museum, an associate professor in the Department of Anthropology, the Scientific Director of the Range Creek Research Project, and a former chief curator at NHMU. Metcalfe has spent the past eight years investigating Range Creek, a canyon with a major Fremont occupation centered on AD 1000. These investigations are an integral part of an annual archaeological field school which trains both undergraduate and graduate students in modern field techniques. Metcalfe plans to spend the rest of his professional career focused on Range Creek, a dream project for any archeologist.
Metcalfe's latest publication on Range Creek is in The Great Basin: People and Place in Ancient Times for the School of Advanced Press. His work can also be found in the Utah Museum of Natural History Report of Investigations, Utah Archeology, Journal of Archaeological Science, American Anthropologist, and American Antiquity. He has advised over 40 graduate students at the University of Utah.
Metcalfe received a Ph.D. in Anthropology in 1987 and a M.A. in Anthropology in 1982 from the University of Utah. He received a B.S. in Anthropology from the University of Oregon.