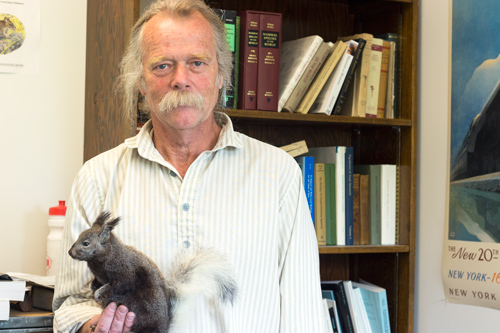 Areas of Expertise
Mammals of the Philippines
Mammals of the Intermountain West
Ecology and Evolution of mammals
Conservation Biology
Background
Eric Rickart, P.h.D., has devoted more than 30 years studying mammals, both regionally and globally. Much of his research has focused on mammals of island systems where processes that shape biodiversity are more apparent due to geographic isolation. In collaboration with Dr. Lawrence Heaney and Danilo Balete from the Field Museum in Chicago, Dr. Rickart conducts research on the remarkably diverse and highly endemic mammals of the Philippines. Their studies have involved scientific expeditions to previously unexplored regions and the discovery of several species of mammals new to science. This research has revealed the evolutionary history of this fauna, and the ecological dynamics of mammal communities. Their studies have helped in efforts to establish a nationwide system of protected areas for long-term preservation of Philippine biodiversity.
Closer to home, Rickart's research in the Great Basin uses historical data from museum collections together with modern field surveys to document faunal change over the past century. This project, funded by the National Science Foundation and developed in collaboration with Dr. Rebecca Rowe (University of New Hampshire), is revealing how regional climate change and human land use have interacted to produce observed changes in natural communities. Another ongoing project with Dr. William Newmark (NHMU Research Associate) focuses on factors affecting movement patterns and population health of mule deer along the Wasatch Front. Rickart regularly presents his research at national scientific conferences and has more than 80 professional publications.
Along with Dr. Shannen Robson (Vertebrate Zoology Collections Manager), Rickart is responsible for overseeing the maintenance utilization of the Museum's extensive collections of vertebrate specimens. Rickart is a member of several professional organizations, including the International Biogeography Society, Southwestern Association of Naturalists, Wildlife Society, and American Society of Mammalogists. He is a past editor for the Journal of Mammalogy.
Rickart received B.S. and M.A. degrees in Biology from the University of Kansas, and a Ph.D. in Biology from the University of Utah. He is Adjunct Associate Professor in the Department of Biology at the University of Utah and a Research Associate of the Field Museum, Chicago.