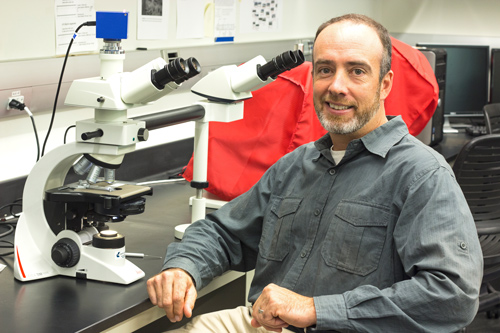 Curator of Garrett Herbarium , NHMU
Associate Professor, Geography, University of Utah
Areas of Expertise
Botany, Herbarium Collection
Fire and Vegetation History
Paleoclimatology, Paleoecology
Historical Biogeography
Background
Mitchell Power, P.h.D., curator of the Garrett Herbarium at the Natural History Museum of Utah, is fascinated with the mechanisms that cause changes in plant communities since the last Ice Age. His research explores the linkages among vegetation, disturbance, climate, and people through time. During the last 20 years he has traveled to many ecosystems around the world conducting fieldwork and exploring the importance of historical processes and climate change. Well known for his work, Power has been invited to present his findings as the keynote speaker for worldwide conferences in Brussels, Belgium; Cape Town, South Africa; Besancon, France; Bristol, UK; Cairns, Australia; and Berne, Switzerland.
Prior to joining the Museum, Power was a postdoctoral research associate at the University of Edinburgh where he created the Global Charcoal Database and became a co-leader of the Global Paleofire Working Group. Both of these groups take a global perspective on the history of fire to better understand its role in the Earth's systems. Power continues to be active in this Global Paleofire Working Group, organizing annual workshops, and he is co-chair for the International Multiproxy Paleofire Database committee. In addition, he advises on scientific content for The Holocene magazine, has written reports for PAGES and iLEAPS newsletters, and has two book chapters coming out next year. His work has been published in Climate Dynamics, Nature Geosciences, Proceedings of the National Academy of Sciences, Quaternary Science Reviews, and The Holocene, all leading journals in research about fires and climate.
Power holds a joint position between the Museum and the U of U, serving as associate professor in the Department of Geography. He is finding that the botany specimens in the Museum's collection helps to better understand recent climate changes and the response by plant communities. Power is currently building a modern pollen reference collection while adding to the breadth of the herbarium collection through collecting trips to the Caribbean and many regions in the western United States.
Prior to arriving in Utah Power was an instructor and research assistant at the University of Oregon while he worked on his Ph.D. and was responsible for managing NSF-funded projects on climate and fire history in western Montana, Idaho, and Yellowstone National Park. Since this time, Power has spent considerable time studying fire, vegetation, and climate history of the Intermountain Region and continues to publish his research findings.
Power received a Ph.D. in Geography in 2006 from the University of Oregon, a M.S. in Quaternary Studies Program from Northern Arizona University, and a B.A. in Anthropology from the University of Maine.