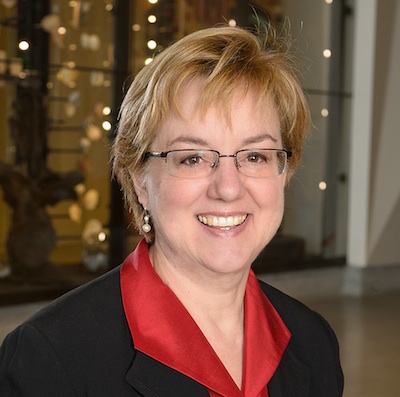 Former Executive Director
Sarah B. George, Ph.D, was the Executive Director of the Natural History Museum of Utah from 1992 through August 31, 2019. Working in museums since she was an undergraduate at the University of Puget Sound, she received her M.S. at Fort Hays State University in western Kansas, and her Ph.D. at the University of New Mexico as a field biologist, mammalogist, and evolutionary geneticist. After completing graduate school in 1984, she was Curator of Mammals at the Natural History Museum of Los Angeles County, also holding adjunct faculty appointments in the biology departments at USC and UCLA.
Since moving to Utah in 1992, Sarah and her team of staff and board developed a new home for the Museum—the Rio Tinto Center—which opened in 2011. The new building is LEED©-Gold certified. It won more than 30 regional, national, and international awards for architecture, engineering, materials, construction safety, dark sky design, exhibitions, media, and public art. The Museum provides science education outreach and small exhibits to rural communities statewide, serving almost 500,000 people annually both on and off-site.
The new building is home to more than 1.6 million objects; research and training programs for the University of Utah in paleontology, archaeology, botany, and zoology; innovative new exhibits and learning laboratories. In partnership with six colleges at the University of Utah, the Museum is expanding its faculty in the areas of biodiversity, learning research, and data visualization in an initiative to promote better public understanding of the importance of biodiversity and the impacts of its loss.
In 2012, Sarah was recognized as a Pathfinder by the Salt Lake Chamber of Commerce, in 2013, she was awarded the Director's Chair by the Western Museums Association, and in 2016, she received the Governor's Medal for Science and Technology. She serves on the boards of the Natural Science Collections Alliance and the Association of Science-Technology Centers and is President of the Association of Science Museum Directors.