Teen Explainers wave on Zoom call

What is Teen Explainers?
Teen Explainers is a paid high school internship program focusing on science communication and learning about museums. Teen Explainers engage NHMU guests and the public in creative learning experiences.
Teen Explainers can participate in a school year cohort (October-April) or a summer cohort (June-August).
---
COVID-19 Safety
Due to COVID-19, the 2021 Summer Teen Explainers program will be a hybrid experience of virtual and in-person engagement. See below for safety measures.
---
What's In It for You?
Receive training on effectively engaging public audiences

Meet museum professionals and have access to behind-the-scenes tours

Build professional development and communication skills

Make new friends and share fun experiences with peers
"Working as a Teen Explainer has changed my view of museums. It has made me realize just how valuable museums are to the communities around them, and it made me realize just how fun museums truly are." -Teen Explainer, 2019-2020
Click here for a digital flyer
Eligible candidates are high school students between the ages of 14 and 18 who are curious, mature, open-minded, and excited to learn more about communication, science, and museums. Candidates should have an interest in learning and helping others learn, and the ability to work as a team member. Teen Explainers must be able to attend all required trainings.
---
Program Structure: Summer Cohort 2021
Total Hours

Anticipate

70

total hours

Time Frame

June 1st-August 24th

20-25 program hours/month

Trainings

-Virtual trainings every Tuesday 10am-11am.

-In-person trainings every Thursday from 10am-12pm

(June 1st and 4th will be virtual, with adjusted times to accommodate for end-of-school schedules)

-4 independent work hours per month

-During July and August selected 2 hour work shifts

Create engaging activities for visitors. Participants will be able to choose whether in-person or online.

Field Trips

-2 half day (4 hour)

optional

field trips walkable from the Museum

*Hours and schedule are subject to change depending upon community and campus guidelines*
• The first 8 hours are unpaid internship training hours.
• After completing the 8 unpaid training hours, Teen Explainers are paid hourly wages.
• Participants may elect to participate as a volunteer.
An important note about the Summer 2021 Teen Explainers cohort: While NHMU intends to offer a hybrid Teen Explainers experience this summer, including both one weekly in-person meeting and virtual meetings, we are committed to following the latest health and safety policies. As additional guidance becomes available, our plans could evolve. We will notify applicants about any relevant updates. We appreciate your patience, understanding, and support.
COVID-19 Safety Measures: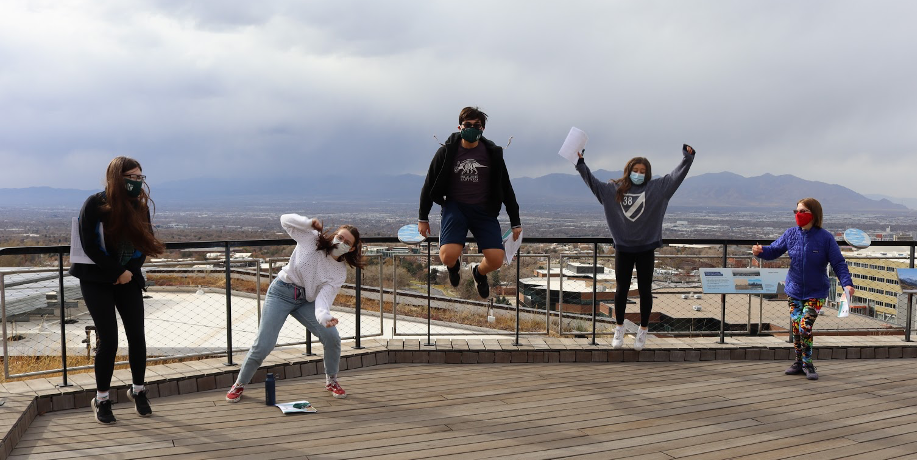 Your safety is our number one priority. In adherence to the University of Utah's and NHMU's COVID safety guidelines, we will be implementing the following safety measures:
In-person experiences will have the following conditions:
They will be contingent on current health advisory protocols

All staff and Teen Explainers will be required to wear masks

Hand sanitizer and disinfecting wipes will be provided

Opportunities for frequent handwashing

Minimum 6-foot physical distancing required

Group meetings will have no more than 16 people TOTAL including Teen Explainers and staff

Everyone is responsible for monitoring their own health status and not come if they feel sick or have been exposed to anyone diagnosed with COVID-19
---
How to Apply:
Applications open on March 25th and close at 8:00pm April 25th.
If selected for an interview, they will be held virtually on Tuesday May 4th (7-8:30 pm), Thursday May 6th (4-5:30pm), and Saturday May 8th (2-3:30pm)
---
Questions?
Please email Linda Aaron (she/her) and Alissa Rubin (she/her) at or call 801.585.5702.
Click here to subscribe to quarterly email updates on NHMU teen programs!