2017 Indian Art Market: Jesse Johnson Takes Best in Show
The Natural History Museum of Utah is proud to award Jesse Johnson, of Zuni Pueblo, New Mexico, best of show honors in this year's Indian Art Market. Jesse Johnson earned best of show honors for his beautifully crafted petite point sculpture and necklace.
Johnson has participated in NHMU's Indian Art Market for several years and this is the second year in a row his work has been awarded best of show. Although his medium of choice is Zuni petite point, a highly detail-oriented form of metal work, Johnson says he gains inspiration from carvers, painters, and weavers.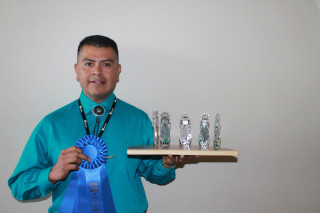 "It was an idea in the works for over two years," Johnson says of his award winning piece. "The wood came first, it is a cedar wood that came from the Zuni forest. I used this piece to represent the soil of Zuni red clay. The scene that you have here is the corn maidens are thanking mother earth for a good harvest of crops that were grown during the summer time."
Johnson's winning work of art is a five-piece Zuni petite point sculpture of which each individual figure can be worn as a necklace.
Now a veteran of NHMU's annual Indian Art Market, Johnson encourages other artists to be part of the growing event. "Bring your talent, your imagination, and your passion," Johnson says. "This venue is exciting. It has a lot of energy."