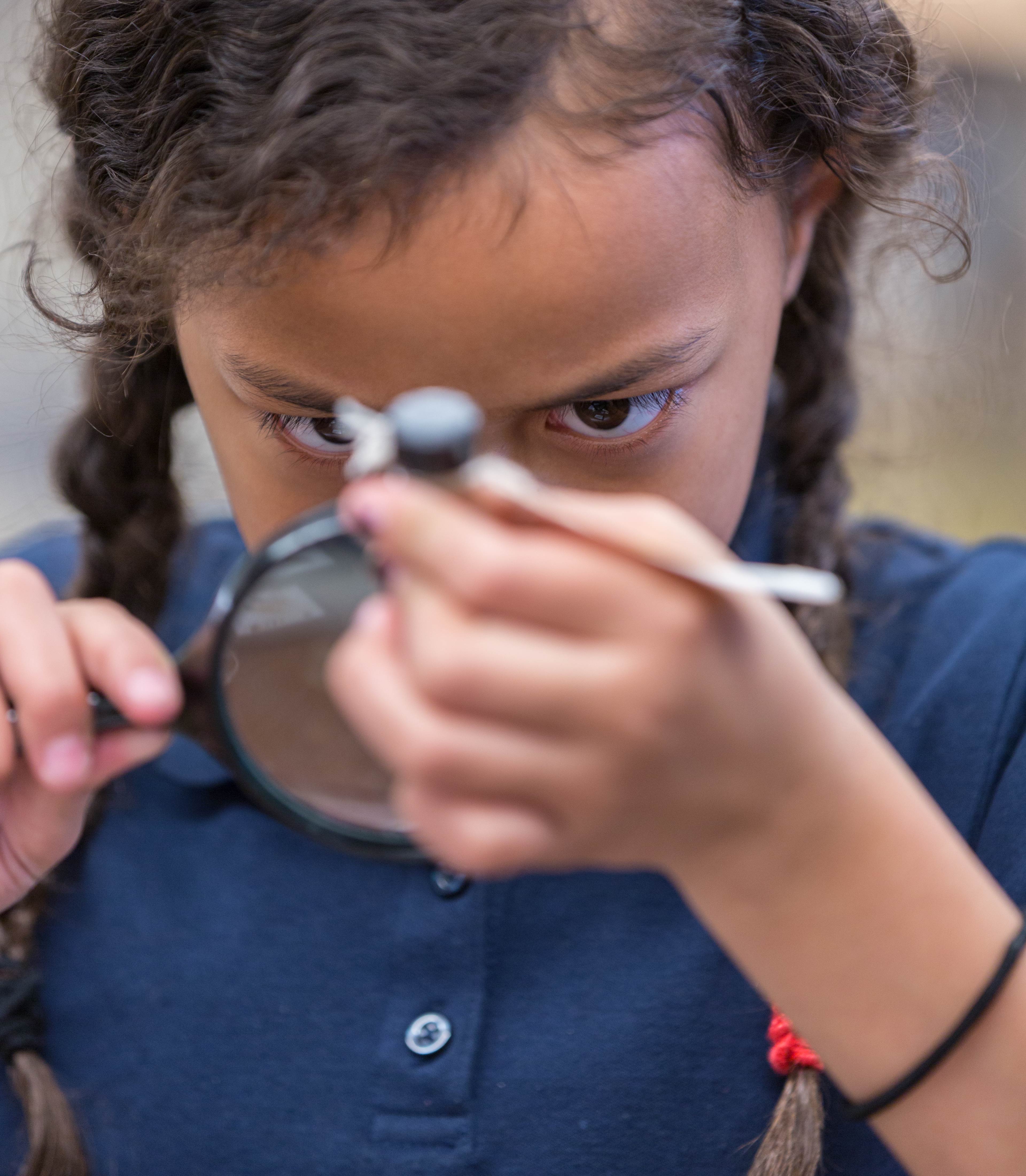 Hey Utah 4th grade teachers! Ever wish that NHMU could come to your classroom? You're in luck!!

Each year, Museum on the Move visits hundreds of 4th grade classrooms across Utah. As part of the iSEE Collective with generous funding from the State of Utah, we visit Utah Public Schools and bring engaging, core-aligned science experiences with real museum fossils, artifacts, and specimens.

This year, we are offering three ways for your class to experience Museum on the Move. You can choose between an in-person visit to your school, a virtual visit through Zoom or Google Meet, or you can access our Nearpod lessons any time.

Have more questions about Museum on the Move, or want to know more about our COVID-19 safety precautions? Read our FAQ sheet here.

Getting ready for your visit? Click here to find the pre-visit checklist.
In-Person Visits
In this 90-minute program, an NHMU educator facilitates group discussion and guides students in a series of discovery stations. Students collaborate as scientists to observe, discuss ideas and ask questions, make inferences, justify their conclusions, and record their discoveries in meaningful notes, charts, or drawings. The Museum educator also models inquiry-based methods for the classroom teacher, who engages in the scientific process and discovery alongside their students.
Program Length: 1.5 hours with each 4th grade class

Fee: Free for Utah Public Schools

When: Schools contacted on 3-year rotation

Topics: Choose from these five core-aligned topics

Fossils:

What can fossils tell us about Utah's past? Explore ancient habitats and adaptations through fossils both big and small, and across Utah's incredible range of fossil history.

Adaptations:

How do plants and animals survive in different habitats? Explore the structures and determine the functions of animal skulls, plant seeds, insect wings, and more!

Archaeology:

What can we learn about the people who came before us from the things they left behind? Students become archaeologists by exploring artifacts from a wide range of Utah's history, from First Peoples to the pioneers.

Great Salt Lake:

What makes Utah's Great Salt Lake so special? Explore the ecosystems surrounding the Great Salt Lake and all the organisms that depend on it. Get up close and personal with brine shrimp, migratory bird skulls, and halophyte plants.

Rocks and Minerals:

What characteristics distinguish rocks from minerals? What can patterns in rock layers tell us about change over time? Students become geologists by exploring specimens from each phase of the rock cycle and a variety of minerals.
Virtual Live Visits
If you have remote learners or just prefer a virtual experience, we're happy to conduct your Museum on the Move visit by Zoom or Google Meet! These classes were specially developed over the past year to engage students with high-quality 3D scans of museum specimens on their individual devices.
Program Length: 60 minutes

Fee: Free for Utah Public Schools

When: Schools contacted on 3-year rotation

Topics: Choose from these unique, core-aligned topics

Adaptations: Structure, Function, Survival!

The body parts, structures, of animals and plants are how they get the food they need to function. Investigate with us, how do some of our native birds use their structures? Do our birds have the structures to help them survive and thrive?

Fossils: Whose Fossil is This?

Step into the shoes of a paleontologist and unravel the mystery of an unknown fossil. Observe two fossils belonging to one animal and infer their anatomical structure and function. Compare to modern animal bones and deduce the fossil's diet and lifestyle and their closest modern relatives. Be prepared to update your inferences and ideas as new information is unraveled!
Problem Solving in Place: Utah's People and Culture. Understand how geography affects the ways people live in an environment and how the objects made by Utah's tribes utilizing natural resources have specific functions that solve survival problems. Identify and make a plan to solve some problems yourself, and develop a deeper understanding of Utah's people and culture that have been here for hundreds of years!
Virtual On-Demand Through Nearpod
Can't wait for your next Museum on the Move visit, or want to explore more topics? Check out our On-Demand classes that you can access with your class any time through Nearpod.
Program Length: self-paced

Fee: Free

When: Anyone, any time!

Topics: Same as the virtual live classes
---
For questions and scheduling information about Museum on the Move for 4th grade classes at Utah Public Schools, please email Glynis Bawden.
For all other Community Outreach Program requests, please email Nichelle O'Saurus.
---
Museum on the Move in Action
Watch this video to follow a Museum on the Move educator on a trip to the most rural school in the contiguous United States.