By Glenna Nielsen-Grimm
A new addition to our re-envisioned Collections Wall is a very large "burden basket" from the Utah Goshute tribe. Burden baskets are exactly what they sound like – conical-shaped baskets worn on the back and used to carry food, wood, and even personal belongings. Leather straps reaching over the shoulder and chest or across the forehead hold the burden basket in place. The conical shape evenly distributes the weight and makes the burden basket surprisingly comfortable and functional.
This is a modern, ethnographic artifact, meaning that it was made in what we call the historic period (as opposed to pre-historic or ancient) by a culture that lives today. This burden basket was made sometime in the late 1800s or early 1900s – we can date it to this time period because there are more modern parts: canvas used to seal and secure the bottom of the basket and a well- tanned leather strap used to carry this across a person's shoulders.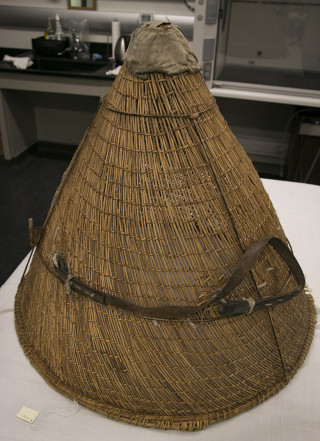 The burden basket, upside-down, in our Anthropology Lab. © NHMU.
This basket was found in a cave near Tremonton, UT, in the 1930s, and was donated to the Natural History Museum of Utah in the 2008. It was part of a set of seven burden baskets found together.  Three of the largest baskets are also on display in the Museum's Native Voices-Goshuite exhibit, but this one was too big for the case. Now we've found a home for it in a prominent location: the Collections Wall. 
This basket had a small portion in need of repair, which we accomplished in our Anthropology Lab prior to it going on display. The thin, brown metal supports encircling the basket were fabricated by our master mount creators here at the museum. These mounts are made to be inconspicuous and strong, yet capable of gently holding any size of object.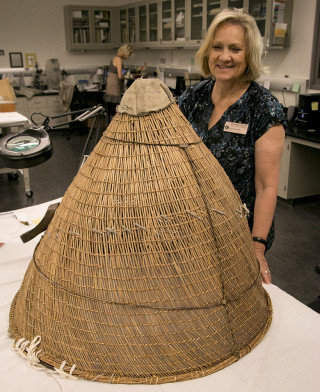 The burden basket with the author. © NHMU.
Glenna Nielsen-Grimm is the Anthropology Collections Manager for the Natural History Museum of Utah, a part of the University of Utah in Salt Lake City. Our mission is to illuminate the natural world and the place of humans within it. In addition to housing outstanding exhibits for the public, NHMU is a research museum. Learn more.