A Labor of Love: Museum Paleontology Volunteers Ann and Randy Johnson
By Westin Porter
It's a Wednesday afternoon at the Natural History Museum of Utah. People mill about the galleries, heads upturned at majestic displays that stretch to the high ceilings. In the Past Worlds gallery kids press their faces against the glass separating the exhibit space from the Paleo Prep Lab, where NHMU volunteers and paleontologists prepare specimens for study. It is a window into the work that goes on behind the Museum's beautiful displays, and through it they can see Ann, sculpting the stone and dirt away from a 200-million-year-old crocodilian, and Randy, carefully preparing the skull of a new ceratopsian species.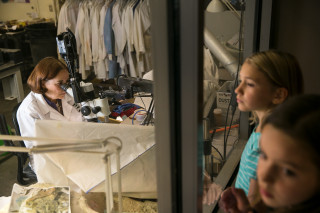 NHMU paleo volunteer Ann Johnson skillfully preparing a recently discovered crocodilian. © NHMU
"It doesn't bother me," Ann Johnson says with a smile of the kids watching her work. "To see their faces light up, I just love it."
Ann and Randy Johnson are seven-year veterans of the NHMU volunteer program. Between the two of them they have logged thousands of hours, served as presidents of the Volunteer Committee Board as well as various other positions, and become what NHMU Curator of Paleontology, Dr. Randall Irmis, calls "indispensable members of the Paleo program."
"They've really become preparators, and they're as good as any professional," Irmis says.
Far removed from the golf courses and knitting circles most associate with retirement, Ann and Randy spend their time—about forty hours per week—contributing to the discovery and research of the natural world and its past. Though their expertise and commitment to the work they do might suggest otherwise, NHMU is the first Museum in which either of them have ever worked.
They met during the 2002 Olympic Winter Games in Salt Lake City. Before long the two of them tied the knot and relocated to New Mexico, where Randy was working as a scientific consultant. A few years later the couple relocated again, this time back to where their journey began in Salt Lake City. Nearing retirement, they began searching for something new with which to spend their time.
"We have a lot of the same interests," says Ann. "We started out skiing, then I talked Randy into fishing."
Ann, a lifelong fisherman, convinced Randy, who had never fished before, into taking up angling. Randy became fascinated with the science of reading rivers, and the artistry of fly-tying.
"She started me into fishing, so I got interested in tying flies," recounts Randy. "Then she got into quilting, and I wanted to find out how to use these flies so I dragged her into fly fishing."
Perhaps the newfound hobby only stoked the inner scientist in Randy, because soon it was not enough. Randy began volunteering at the Museum shortly thereafter "to keep from going crazy," he admits.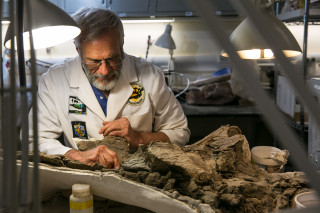 Randy discovered this specimen in Utah's Grand Staircase-Escalante National Monument on an NHMU-led paleontology dig. © NHMU
At the Museum there was plenty of work to be done. Staff and volunteers scrambled in preparation for the move from NHMU's former location in President's Circle, to its new one in Research Park. With work to be had in every department, Randy had his pick of where he wanted to spend his time. He earned his undergraduate, graduate, and PhD in Chemistry before working for the government and various other entities as a chemist. As a life-long scientist, the only challenge he would face at the Museum came in choosing which department he wanted to focus his abilities.
"I always wanted to be a scientist ever since I was a little kid," says Randy. "I just didn't know what kind. When I started at the Museum it was kind of hard to choose what I wanted to do here, but once I spent some time in the Paleo Lab I decided pretty quickly that's where I wanted to be."
Where the fit was natural and the transition seamless for Randy, Ann did not consider herself a scientist and had never imagined working in an environment like the one she toils tirelessly away in now. A retired nurse, she had spent her life looking after people in care facilities and hospitals—a far cry from working with the grit and dirt of hundred-million-year-old fossilized bones. But with a little convincing from her husband and the goading of her insatiable curiosity, Ann decided she would volunteer. Within weeks, she was hooked.
"I sent Randy to the Museum to get him out of my hair," Ann laughs. "But he talked about how much fun he was having, and he convinced me to come over. They brought me in, and I loved it."
Though their paths to the Museum were different, what attracted them to volunteering with NHMU is the same: the rush of discovery.
Randy, reserved and soft-spoken, articulates matter-of-factly the thrill of discovery he feels in working in the Paleo Prep Lab every day. For nine months he has been preparing the skull of a never-before found species of ceratopsian dinosaur. It is a specimen known by no one better than Randy. While volunteering in the field for NHMU in Grand Staircase-Escalante National Monument, Randy discovered the unknown marvel. The specimen, yet to be named, was soon relocated to NHMU's paleontology collection where again, Randy leads the discovery process, carefully chiseling away the matrix of hundred-million-year-old mystery.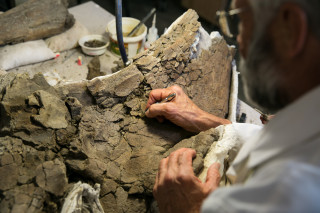 Preparing specimens can take months or even years. © NHMU
The rush of discovery is the same for Ann. In contrast to her soft-spoken husband, the excitement bubbles up in her voice as she describes the thrill of taking part in the discovery and research of the specimens she works with every day.
"You can't imagine what it's like to have the curator of paleontology hand you a coat and say 'this is a 200-million-year-old specimen. Prep it out for me.' It's like Christmas morning."
While Ann and Randy are unique, stories like theirs are not uncommon of the nearly-300 volunteers that work in the Museum. When asked what makes a museum such a special place to volunteer, Ann is quick to credit NHMU and its volunteer program.
"I have volunteered for a lot of different organizations," she says. "NHMU is the most supportive and appreciative of their volunteers of any organization I've ever volunteered for."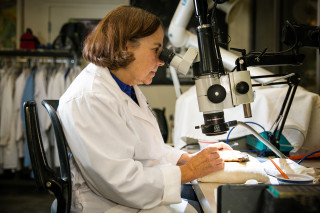 The crocodilian specimen Ann is seen preparing above was discovered in Ethiopia. It is on loan for research and preparation, and will be returned to the National Museum of Ethiopia. © NHMU
There is a connection in all of it that Ann sees in guests' faces when they visit the Museum, particularly kids. It's a connection she describes as a sort of "coming full circle." Through the prep lab window she sees the faces of many kids. NHMU brings in more than 40,000 of them every year through its field trip program. The exuberant smiles, the awe-struck eyes—these are all constant reminders to Ann of what she, and what the Museum at large, is doing and why it is important.
"If there's just one little spark, that one kid comes back and it gets them interested in some kind of science, then it's all worth it," she says. To Ann, the lit-up faces on the other side of the window are reflections of the joy she feels volunteering every day.
Westin Porter is a Digital Science Writer for the Natural History Museum of Utah, a part of the University of Utah in Salt Lake City. Our mission is to illuminate the natural world and the place of humans within it. In addition to housing outstanding exhibits for the public, NHMU is a research museum. Learn more.