To the Top: Adventurous Researchers Unlock Changes in Animal Communities
Our researchers in the Spring Mountains of Nevada. © NHMU.
By Ally Coconis
It takes more than an interest in furry creatures and a penchant for biology to study small mammals. Our biologists at the Natural History Museum of Utah are also very fit … and motivated. Recently, they hiked 3,000 feet up over six miles of rocky terrain to reach their study site. They worked for four days on a windswept ridge at 11,000 feet above sea level, rising at dawn to check hundreds of traps and then preparing specimens all day. It's hard work.
And that was just one of four sites they surveyed this August.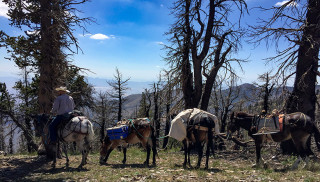 Full disclosure: mules carried most of the supplies. © NHMU.
I joined them in the Spring Mountains, Nevada, a mountain range that rises to the west above the megalopolis that is Las Vegas. In stark contrast to the bright lights and casinos in the valley, the Spring Mountains are refreshingly wild. Here, the researchers were finding a suite of small mammals, including many species of mice, squirrels, and one endemic (meaning it is found only here) species of chipmunk.
Five of us hunkered down on a ridge adjacent to Mt. Charleston at 11,916 feet; tents scattered over the few semi-level spots we could find. My companions were Dr. Eric Rickart, the NHMU Curator of Vertebrate Zoology, Dr. Shannen Robson, NHMU Collections Manager for Vertebrate Zoology, Dr. Lois Alexander-Merkler from the College of Southern Nevada, and one of Dr. Alexander's students — Obedh Ornelas. They were surveying the small mammal populations along the entire elevational gradient.  They inventoried mammals at nine sites about 1,000–2,000 feet apart, in different elevational zones (foothill, montane, subalpine and so on) all the way up the mountain. The sites were carefully determined ahead of time, and it was my luck to join them for the most moving site: the Mount Charleston ridgeline.
The wind hounded us day and night — whipping our tents into a frenzy and covering us with a fine layer of dust during the little sleep we could get. 

Panoramic view of the Spring Mountains re-survey area. © NHMU,.
This wasn't the first time these mountains had been surveyed for small mammals. In 1928 and 1929, William Burt, a mammologist from the California Institute of Technology studied the mammals of Southern Nevada, including the Spring Mountains. Our work is a "re-survey" that will allow scientists to compare modern and historic data, informing us of the changes over time. 
As Rickart explains, the Great Basin is a special place to study habitats for a few reasons: it's relatively untrammeled, it has a very dry climate (which helps to preserve historical specimens), it experiences the full range of the seasons and extreme temperatures, and it has a wide spectrum of habitats, from low elevation desert to high elevation alpine tundra. "The species are fairly differentiated across these habitats, and often there are very clear responses to climate warming," explained Rickart. For instance, we might expect to see the distribution of small mammals sensitive to heat and drought to shift upward in elevation during a series of overly hot and dry years.
"Climate change right now is much more rapid than what has occurred at any point in human history or pre-history," asserted Rickart. For this reason, it is important to re-survey these habitats and see what is happening with the species living there. Work like this is vital — it helps us understand our present and make more accurate forecasts about the future.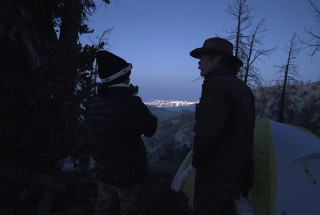 Nighttime was cold, with the electric lights of Las Vegas lit below. © NHMU.
A fairly devastating fire swept through the Spring Mountains three years prior to our re-survey, and the blasted landscape was more than a little gloomy. It matched the harsh reality of what we found: less populous and less varied small mammals.
As changes persist, we need more enthusiastic researchers like Rickart, Robson, and Alexander-Merkler to record what is happening in these varied habitats.  After two days of helping to trap and document small mammal populations, I hiked back down the mountain, leaving the other four to finish up a few more days of research. I smiled at the thought that museum researchers enjoy the comfort of offices and white lab coats — and I looked forward to finally getting a good night's rest in a bed.
Rickart working with specimens. © NHMU.
Ally Coconis is a Citizen Science Coordinator for The Natural History Museum of Utah, a part of the University of Utah in Salt Lake City. Our mission is to illuminate the natural world and the place of humans within it. In addition to housing outstanding exhibits for the public, NHMU is a research museum. Learn more.