Recipes with Insects: The Delicious World of Entomophagy
By Megan Bartley
As a chef I was trained to view bugs as contaminants to food. But, as an Anthropologist I learned that insects are an important dietary staple in many cultures around the world, and taboos surrounding entomophagy (the practice of consuming insects) likely have more to do with status and reputation than health and nutrition.
As chef of the Bug Bar at NHMU's BUGfest, I have an opportunity to explore the complicated relationship between humans, bugs, and food. I start by conceptualizing insects as ingredients. How are the flavor and texture described? How is it traditionally prepared? How are they raised or sourced? I check to see which of the best buggy ingredients I can order in the right quantity and timeframe, and I create a tentative menu.
After the ingredients arrive, I start writing and testing recipes that will complement the actual flavor and texture of the insect—which is often very different from how it was described. Silkworm pupae are often described as having a 'nutty' flavor. However, once I began taste testing I discovered that they have a strong, gamey aftertaste. I use espresso, orange zest, and brown sugar to soften the aftertaste and bring the earthy flavors forward. This trick works well for other gamey proteins, too!
Flavor isn't the only surprise I encounter when working with a new insect ingredient. Insects tend to have textures that are unlike other protein sources. Superworms are often touted as a perfect "starter bug" for cooking because of their mild flavor, but I found the chewy texture to be jarring and unpleasant in some recipes. I have had really good results incorporating them into a chunky soup or stew, where they can blend in with a variety of textures.
Once the recipes are perfected, the Bug Bar Menu is ready for BUGfest! I crafted this year's menu around the idea of easing people into entomophagy by incorporating insects into some comfort food classics, like smoothies, pasta salad, chili, and lemon cake.
If you cannot attend BUGfest at the Museum on August 12 or 13, then keep reading to try this year's Bug Bar recipes for yourself. You might discover that insects were the missing ingredient in your favorite dish!          
Vanilla Berry Protein Smoothie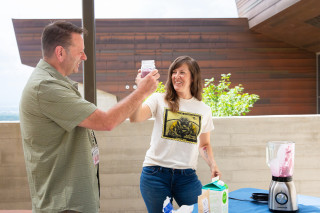 Mealworm protein powder might not be a conventional smoothie ingredient, but its exceptional nutritional content makes it a worthy addition to any health-conscious diet. Mealworms are not only rich in protein, they contain monounsaturated fats and omega 3 fatty acids which are important for maintaining heart and brain health. This refreshing smoothie will leave you feeling energized and ready to conquer the day. Watch a video about this recipe here. 
Ingredients
1 banana, frozen and sliced
½ cup strawberries, frozen
½ cup blueberries, frozen
¾ cup vanilla soy milk

¼ cup vanilla frozen yogurt
1 tbsp mealworm protein powder
1 cup ice
Instructions
Combine ingredients in a blender and secure the lid.
Start the blender on its lowest speed and steadily turn it up to its highest speed.
Blend for approximately 30 seconds or until desired consistency is achieved.
Pour into a glass and enjoy, or store in the refrigerator in an airtight container for later. Stored mixture may need to be stirred prior to serving.
Crunch Cricket Granola
Cricket flour gives a nutritious boost to this tasty, maple syrup sweetened, fruit and nut granola. Crickets are a rich source of essential nutrients such as protein, healthy fats, B vitamins (B12, B2, and B5), and minerals (iron, calcium, magnesium). This wholesome treat is perfect for breakfast, snacking, or sprinkling over yogurt for an added crunch.
Ingredients
1/3 cup coconut oil
1/3 cup maple syrup
3 cups old fashioned oats
1/4 cup cricket flour

1 teaspoon cinnamon
1/2 teaspoon salt
1 cup pecans
1/2 cup dried cranberries
Instructions
Preheat oven to 350 degrees.
Melt the coconut oil in a small saucepan over medium heat. Whisk in maple syrup until thoroughly combined.
In a large mixing bowl combine oats, cricket flour, cinnamon, salt, and pecans. Gently fold maple syrup and coconut oil mixture into the dry ingredients, making sure oats are thoroughly coated.
Spread mixture over a parchment lined baking sheet. Bake for 10 minutes, then stir to ensure even baking. Bake for another 10-15 minutes until golden brown.
Remove the pan and let cool completely. Once cooled, stir in cranberries.
Spicy Giant Water Bug Pasta Salad
Giant Water Bugs have been a popular food item in Southeast Asia for generations. Male Giant Water Bugs emit a pheromone that gives them a unique flavor. These musky beetles are the primary ingredient in a popular Thai chili paste, Nam Prik Mang Da. I use this delectable paste to add some heat and complexity to this Thai-inspired pasta salad.
Ingredients
12 ounces bowtie pasta
1 to 2 teaspoons giant water bug chili paste
1/3 cup vegetable oil
2 tablespoons sesame oil
1/4 cup soy sauce
1/4 cup honey

1/4 teaspoon salt
1/2 cup chopped cilantro
1/2 cup shredded carrots
1/4 cup sliced green onions
1/3 cup chopped peanuts (optional)
Instructions
Cook pasta according to package directions. Drain, rinse well with cold water, and transfer to a large mixing bowl.
In a small bowl, combine honey, soy sauce, and salt. Set aside.
Heat vegetable and sesame oil in a saucepan over medium heat. Add in giant water bug chili paste and stir over medium-low heat for 2 minutes.
Add in honey, soy sauce and salt mixture. Stir until thoroughly combined.
Pour over cooked pasta and stir gently until coating evenly.
Cover and refrigerate a minimum of 4 hours.
Just prior to serving, wash and cut your fresh vegetables. Fold the fresh vegetables into the prepared pasta.
Garnish with chopped peanuts if desired.
Sago Worm and Black Bean Chili
Packed with protein and healthy fat, sago worm meat is the perfect addition to this savory chili. Although traditionally associated with the cuisine of Southeast Asia, the sago worm's bacon-like flavor and texture seamlessly complement the flavors of this hearty southwest dish.
Ingredients
1 large yellow onion
3 garlic cloves
2 bell peppers
1 jalapeño pepper
2 medium carrots
2 celery stalks
1 (15-oz) can tomato sauce
1 (15-oz) can diced fire-roasted tomatoes

2 (15-oz) can black beans, drained and rinsed
1 cup dehydrated sago worms, crushed
1 (32 oz) vegetable broth
1 tsp kosher salt
1 tsp ground cumin
1 tsp chili powder
1 tsp paprika
1 tbsp apple cider vinegar
Instructions
Place dehydrated sago worms on a cutting board. Using a rolling pin, press down on the worms, crushing them into several large pieces.
Peel and mince onion and garlic.
Wash and rough chop peppers, carrots, and celery.
Combine all ingredients in an 8-quart slow cooker.
Cover and cook on high for 4-5 hours or low for 6-7 or until the vegetables are tender.
Add salt and pepper to taste.
Lemon and Black Ant Cake
Black ants have a citrus flavor and "pop" when you eat them, making them an ideal replacement for poppyseeds in this luscious lemon cake. With twice the protein and a fraction of the fat, black ants give this classic sweet treat a nutritious kick.
Ingredients
Cake:

1 cup granulated sugar
2 tablespoons lemon zest (~ 2 lemons)
3 eggs
1/2 teaspoon vanilla extract
1/2 cup buttermilk
3 tablespoons lemon juice
1 3/4 cups all-purpose flour
1 1/2 teaspoons baking powder
1/4 teaspoon baking soda
1/2 teaspoon salt
2 tablespoon black ants
1/2 cup unsalted butter, melted

Lemon Icing:

1.5 cups powdered sugar
1/4 cup fresh lemon juice
1/4 cup heavy cream
Instructions
Preheat oven to 350 degrees F
Prepare a 9-inch cake pan with nonstick cooking spray and line with parchment paper. Set aside.
In a large bowl, combine the sugar and lemon zest, mixing until well combined.
Stir in the eggs and vanilla and mix until smooth. Stir in buttermilk and lemon juice until well combined.
In a separate bowl, whisk together the flour, baking soda, baking powder, and salt.
Slowly sift the dry ingredients into the wet ingredients in batches, stopping occasionally to whisk the ingredients together, until thoroughly combined.
Stir in the melted butter.
Gently fold in the ants.
Pour into prepared pan and bake 45-55 minutes, or until a toothpick comes out clean after being inserted.
Cool 15 minutes in the cake pan, then remove from pan and place on a cooling rack until room temperature.
To make the icing, whisk together the sugar and lemon juice. Drizzle in the cream slowly, whisking until you achieve your preferred consistency. You may not use all the cream if you like a thicker icing.
Pour over the cooled cake.
Allow to set prior to serving.
If you want to learn more about entomophagy or sample some flavors at NHMU's famous BUGbar, then join us at our next BUGfest.