Posted May 28, 2016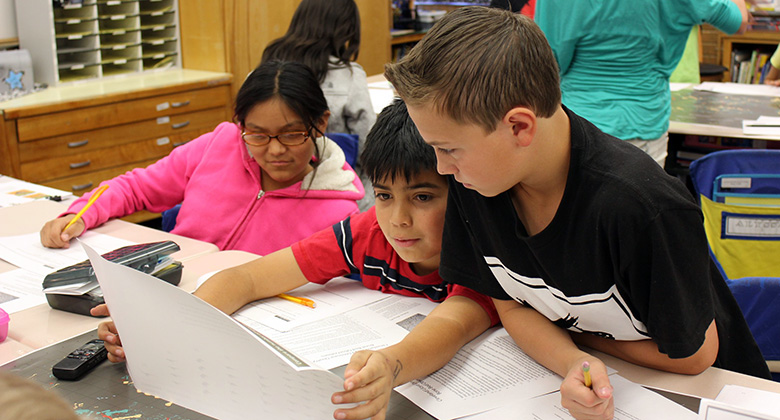 By Michael Mozdy
Utah students are "grossly unprepared" for the workplace, according to a recent Deseret News article. Written in December 2014, the article describes the dire need for better prepared students, as uncovered by a Dan Jones & Associates poll of Utah employers. Eighty-one percent of employers surveyed said prospective employees lack critical thinking and analytical reasoning skills. That's pretty staggering. As a result, the article reports that employers are hiring candidates from outside of the state.
What exactly are critical thinking skills? In short, they are found in the act of investigation. People think critically when they gather evidence from multiple sources, weigh it carefully, and come up with an opinion or decision. It happens when a computer programmer has to try several times to troubleshoot some code that isn't working. It happens when a writer tries five ways to write the same sentence until it sounds right. Or when a manager of a clothing store looks at sales reports and makes decisions about how to arrange the displays best. But it's not happening in classrooms when students learn that there is a "right answer" every time and there's one way of doing things to get to that right answer (often gained through memorization).
When pressed about teaching more critical thinking skills, educators worry about adding another requirement to an already packed standardized curriculum. The trick is to incorporate this learning into existing subjects – it becomes more about how lessons are taught rather than what is taught. Many look at disciplines like science, technology, engineering, and math (called STEM) as a great place to teach critical thinking.*
"STEM is about using math and science to solve real-world challenges and problems," says Vince Bertram, President and CEO of Project Lead The Way, in his Huffington Post blog post. "This applied, project-based way of teaching and learning allows students to understand and appreciate the relevancy of their work to their own lives and the world around them."
Image © Michael Mozdy
In fact, in December of 2015, the state of Utah adopted new science standards for 6th-8th grades that aim to teach science in this new way. These standards will take effect in the 2016-2017 school year and are based on The Next Generation Science Standards, which focus on critical thinking skills and applied technology and engineering learning. But these standards are new, and Utah teachers don't have a roadmap or familiarity for teaching science in this way.
Science, of course, is something NHMU has in spades.
The Germ of an Idea
Philanthropists and friends of the University of Utah, the Rosenblatt family, were looking for something new and digital to bring to Utah elementary school classrooms to address the problem of students unprepared with critical thinking skills. "We searched for an organization to develop an innovative, scalable program to advance these skills and realized the team at the museum would be a most effective partner," said Toby Rosenblatt, president of the Rosenblatt Charitable Fund.
He then added something that not everyone in Utah realizes: "They have a tremendous track record in youth education."
Many people consider NHMU a cool place to see fossils and big dinosaurs, but don't realize that for over 40 years we've been involving children in exciting explorations of science. From our Museum-on-the-Move program that reaches over 25,000 4th graders each year throughout Utah, to our Teaching Toolboxes that K-12 teachers can check out for free and use in their classrooms, we are seriously committed to engaging youth education beyond the museum experience.
The new frontier in education is using emerging technologies in the classroom, but educators question how helpful some of these technologies can be. We did not want to invent the next useless video game or the equivalent of turning on a video to entertain kids. So, the entire first year of the grant was used to give the question the attention it deserved. We created a project team and a national advisory team made up of experts in their fields. We collaborated with educators, technology experts, strategists, advisors, and business leaders. We surveyed state-of-the-art educational technologies and how they might be used in classrooms. We also considered all of the scientific strengths found at the museum and came up with three potential avenues to investigate.
In short, we did the very work of critical thinking that the program would seek to teach students.
"One of the ideas was that maybe we could get involved in virtual field trips – not trying to replicate the physical experience, but the cognitive experience," explains Madlyn Runburg, NHMU's Director of Education Initiatives. "What if we used the objects in our collection and our researchers' knowledge to launch a virtual inquiry?"
That's exactly what we tried. We used 3D printed objects, virtual 3D images of our objects on iPads, video of a NHMU paleontologist, Carrie Levitt-Bussian, and a series of real-world research questions our researchers grapple with. In our first year, we piloted the experiment in two 6th grade classrooms at a Title I school in Salt Lake School District. We evaluated whether critical thinking was happening and asked students what they liked and didn't like. We learned that a great deal of critical thinking was activated and learned where we could focus our next steps. Students said they loved collaborating with their classmates, they loved working on real problems, and they had lots of ideas for improving the experience.
* It's important to note that most experts agree that a broad education engaging students in many creative enterprises is best at teaching critical thinking and problem solving. That means that English, philosophy, history, and other liberal arts fields can equally contribute to teaching students these skills as STEM disciplines.
Michael Mozdy is a Digital Science Writer for The Natural History Museum of Utah, a part of the University of Utah in Salt Lake City. Our mission is to illuminate the natural world and the place of humans within it. In addition to housing outstanding exhibits for the public, NHMU is a research museum. Learn more.