Posted July 5, 2016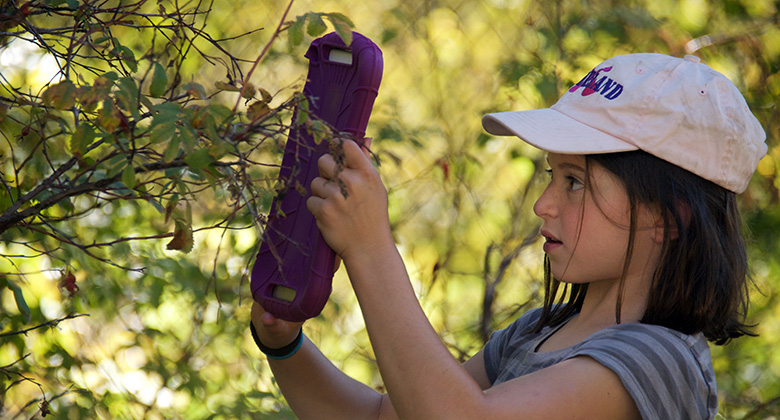 By Ally Coconis
Are you curious about the species that share our city with us? It just so happens that there is a free app called iNaturalist that allows users to make observations using the camera on their phone and get help identifying those observations by experts and other like-minded nature enthusiasts. It's a social media network for the nature-curious!
With iNaturalist, not only do you learn to identify local species but you also contribute to scientific data collection. We are now working with our Salt Lake City parks and open space managers to create baseline inventories of species using the iNaturalist app - a partnership we call SLC Neighborhood Naturalists. The convenience and ubiquity of the app allows for managers to gather accurate data with little cost to the city, and as a benefit, we engage our local community members in the effort.
The author making an observation on a bioblitz.
In early 2016, SLC Neighborhood Naturalists have surveyed two sites located on the Jordan River. We survey the sites during what we lovingly call a bioblitz: as a group, we visit a specific location and, in little more than an hour, try to observe as many species as possible. With a large group, we can perform a solid survey of species found in the area.
The first of the two surveyed sites was the Fred and Ila Rose Fife Wetland Preserve. This park has been recently restored with native plants in the hopes of attracting native birds, mammals, and insects. As a group, we made 210 observations including sightings of cormorants, swallows, ladybugs, harvestmen, and bees. Check out the guide we created on iNaturalist.
After the Fife Wetland Preserve, SLC Neighborhood Naturalists visited Peace Tree Bend. This location is also on the Jordan River but has yet to be restored. The day we visited the site, it was a bit rainier and had slightly lower attendance but no less enthusiasm or lack of interesting species. We caught a glimpse of a Belted Kingfisher and observed numerous White Cabbage Butterflies.

We are continuously creating more opportunities for our Salt Lake City community to learn about our city and help conserve its native environments. Take a look at our SLC Neighborhood Naturalists events page to learn more. Below are a few more pictures from our bioblitzes.

Ally Coconis is a Citizen Science Coordinator for The Natural History Museum of Utah, a part of the University of Utah in Salt Lake City. Our mission is to illuminate the natural world and the place of humans within it. In addition to housing outstanding exhibits for the public, NHMU is a research museum. Learn more.