Posted August 30, 2017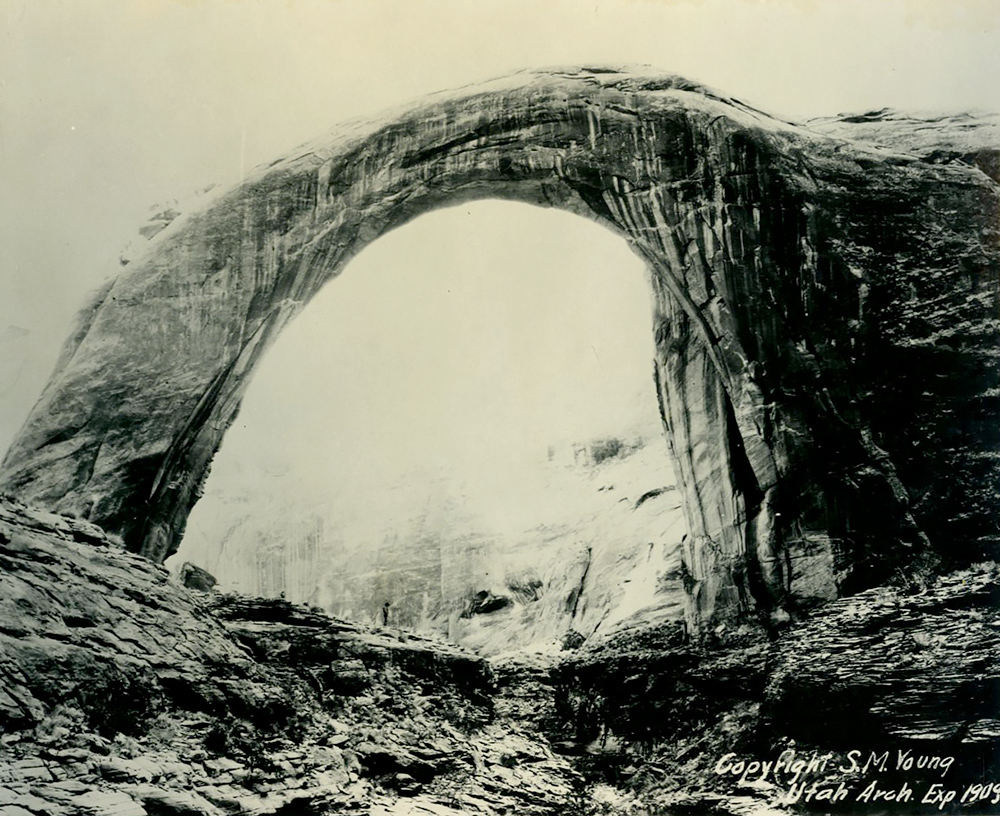 By Mark Johnston and Westin Porter
These rare photographs, taken by Stuart Malcom Young, chronicle the 1909 Utah Arch Expedition. The grandson of LDS Church leader, Brigham Young, S.M. Young (as he credits himself in his photographs), accompanied University of Utah Professor, Byron Cummings, on the historic excursion to "discover" Rainbow Bridge. At just 19 years old, Young played an important role in the expedition, chronicling the journey with photographs that would later become instrumental in building interest in the American Southwest and preserving its awesome landscapes, history, and people.
This image of Hoskininni Begay was taken at Oljeto, where the expedition began. Hoskininni was a Navajo chief, who led resistance against the U.S. government removal of Navajo people from the area in 1856. To the Navajo people, Rainbow Bridge was a spiritual site—one of many that Hoskininni fought to preserve and protect.
Louisa Wetherill, seen above, is said to have been one of the key players in the motivation to find Rainbow Bridge. She is seen above in this photograph taken at Oljeto, a trading post near the Utah-Arizona border ran by Richard and Louisa Wetherill.
The expedition party included (back row, left to right): Ned English, Dan Perkins, Jack Keenan, Vern Rogerson, Neil Judd, Don Beauregard, (front row, left to right) Jim Mike, John Wetherill, Byron Cummings, William Douglass, Malcom Cummings. Not shown: Nasja Begay, Dogeye Begay, Stuart M. Young.
After months of planning, the Cummings and Douglas parties agreed to meet and depart from Oljeto together on August 10, 1909. After a day of waiting for Douglas in Oljeto, Cummings and his party left without him. Douglas caught them on the trail later that afternoon and the expedition officially began on August 11.
Traversing the desert terrain provided many challenges. In an effort to pack light, the party had not packed a horseshoeing outfit. When a pack horse threw a shoe just one day into the journey, Wetherill improvised by re-shoeing the horse "with nails from an old tomato carton… [and] with a cobblestone as a shoeing hammer," as reported by party member Neil Judd.
The expedition toured through some of the United States' most prized landscapes, included among them this iconic panorama of Monument Valley, which the Cummings' party crossed through on its return journey to Bluff, Utah.
John Wetherill at Betatakin Ruins, which was preserved as part of Navajo National Monument in 1909.
Byron Cummings at Oljeto.
Expeditions like the Utah Arch Expedition lasted days or even weeks. Due to the remote and rugged land, parties had to prepare for long and arduous travel yet be judicious in their packing so as to keep their loads light.
Another treasure seen during the expedition was Keet Seel. A nearly eight-hundred-year old cliff dwelling, Keet Seel was home to over one-hundred people in the Tsegi Canyon region before its abandonment sometime around 1300 C.E.
Stuart M. Young's self-portrait.
After months of planning and days of arduous travel, the Cummings-Douglas party finally reached their destination of Rainbow Bridge on August 14, 1909. Reports of which party member first saw the bridge vary, however, both Cummings and Douglas were quick to credit their guide, Nasja Begay for the success of their expedition in finding the mythical Rainbow Bridge.
Mark Johnston and Westin Porter are Digital Science Writers for the Natural History Museum of Utah, a part of the University of Utah in Salt Lake City. Our mission is to illuminate the natural world and the place of humans within it. In addition to housing outstanding exhibits for the public, NHMU is a research museum. Learn more.