Posted March 30, 2018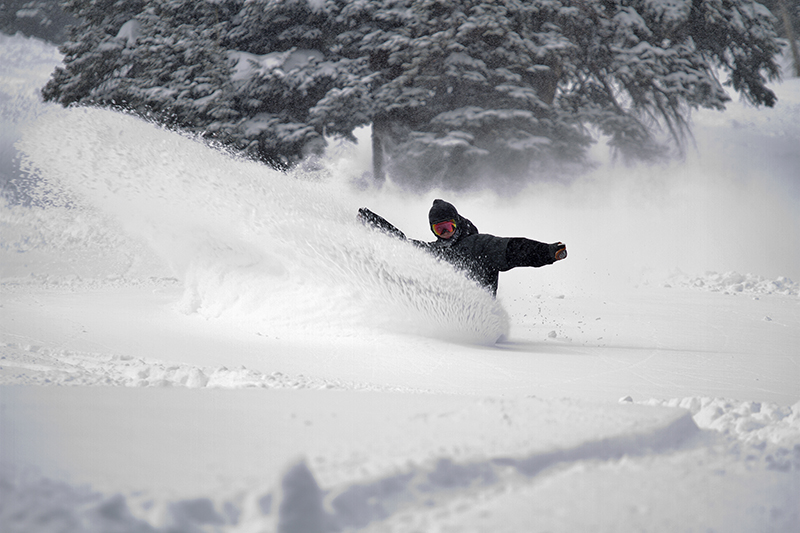 Snowboarder at Solitude Mountain Resort. Photo courtesy of Ski Utah.
By Westin Porter
Utah has touted the Greatest Snow on Earth, at least officially, since 1985 when the slogan first appeared on Utah license plates. It's a bold claim that Utahns have relished and neighboring ski states have refuted. While Utah skier and snowboarders may say the proof is in the powder, NHMU caught up with Jim Steenburgh, avid skier and University of Utah Professor of Atmospheric Sciences, to try and gain some objective, scientific insight into whether or not Utah really does have the Greatest Snow on Earth, and whether or not we should be worried about it in light of another low-snowfall winter.
Is Utah's claim to the Greatest Snow on Earth something that can be scientifically supported?
Steenburgh: "There is no way to scientifically determine the greatest snow on Earth. That's really in the eye of the beholder. However, it is clear that the higher elevations of the Cottonwood Canyons are a very special place. They are a great place for deep powder skiing because they get abundant snowfall, frequent 'deep powder' days (10 inches or more of snow), and frequently observe storms that get colder with time, which yields snowfalls in which the lightest snow is stacked on top of higher density snow. That's really what you want for great powder skiing."
I've heard that part of what makes Utah's snow so great are dendrites—a particular kind of snowflake that are climate specific. Can you tell me more about that?
Steenburgh: "Snowflakes come in many shapes. Dendrites are snowflakes that have six, long, tree-like arms. Other snowflake types include columns, needles, and hexagonal plates. In nature, snowflakes are often broken or stuck together, further increasing snowflake complexity."
"Information concerning the types of snowflakes that fall from the sky is actually quite limited. We certainly get our share of dendrites here, but whether or not we get a lot more of them than other places is unclear."
Ok, so you can't support Utah's Greatest-Snow claim as a scientist, but how about as a skier?
Steenburgh: "Utah's powder reputation is based primarily on the snow conditions in the Cottonwood Canyons, and it is clear that's a very special place. When I think of great places around the world for deep powder skiing, I think of the Cottonwoods, the Tetons, interior British Columbia, and Japan. Thus, I think Utah has a legitimate claim, but I often tell people that… the surest bet for deep powder skiing anywhere in the world is in the mountains near the northwest coast of Japan in January."
While spring snow storms are not uncommon in Utah (the weekend of March 18 in 2012 made for an 86" snow storm total, per Alta's snowfall history report), powder hounds are right in being concerned about the lack of snowfall this season. According to Steenburgh, Utah's snow climate is changing in response to global warming. Utahns are seeing warmer winters, with more frequent warm spells and less frequent cold spells.
"In the lower elevations, a greater fraction of wintertime precipitation is falling as rain instead of snow," said Steenburgh. "We are also seeing more mid-season snow 'ablation' events, which result in the loss of snow to melt or evaporation, especially in the lower elevations. These trends are expected to continue and amplify in the coming decades. Reducing future greenhouse gas emissions can help limit their severity and impacts on the Greatest Snow on Earth."
Westin Porter is a Digital Science Writer for the Natural History Museum of Utah, a part of the University of Utah in Salt Lake City. Our mission is to illuminate the natural world and the place of humans within it. In addition to housing outstanding exhibits for the public, NHMU is a research museum. Learn more.