Sarah B. George Director's Innovation Fund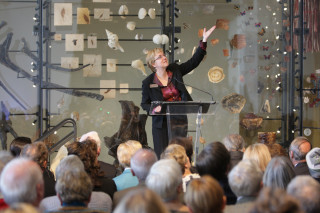 After nearly 27 years of service as NHMU's Executive Director, Dr. Sarah B. George has concluded her work with the Museum. As of September 1, she has officially begun her new role Chief Philanthropy Officer – Campus for the University of Utah. We're tremendously grateful for Sarah's extraordinary leadership and all she has done for NHMU during a remarkable period of change and growth. We're excited to work with her, in her new role elsewhere on campus, during the years to come.
Sarah guided the Museum through an extraordinary transformation during her time here. Among the many highlights: working with friends and partners throughout the community to open, in 2011, our spectacular new home, the Rio Tinto Center. It was a transition that took two decades to pull off, and one that helped establish the Museum—on the national stage—as an institution that blends the highest quality education programs, visitor experiences, special exhibitions, scientific research, collections care, and statewide service with inspiring architecture in a beautiful location.
To commemorate Sarah's tremendous service to the Museum—and help set our next Executive Director up for success—a group of Sarah's colleagues and friends are coming together to establish an endowed fund in her honor. Sarah's bold vision helped to create the remarkable Museum we all love today. In this spirit, the Sarah B. George Director's Innovation Fund will provide our next Executive Director with a remarkable opportunity to foster—and support—bold new ideas that will power NHMU into the future.
If you'd like to make a gift, you can do so online by clicking here (please indicate the gift is in honor of Sarah) or be in touch with our Director of Philanthropy, Chris Eisenberg, at (801) 585-1437 or ceisenberg@nhmu.utah.edu.