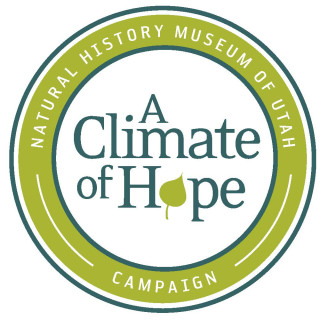 Make a gift to help create A Climate of Hope
The Natural History Museum of Utah is launching a major new initiative called A Climate of Hope, which includes a brand-new permanent exhibition set to open in Fall 2023. 
This landmark exhibition is designed to help Utahns find opportunity in the face of the climate crisis. We're poised to tell stories of climate progress happening every day. We're eager to give visitors the tools they need to tackle these challenging issues. And we're ready to inspire the rational hope needed to forge lasting solutions to the climate crisis.
We need your help to make it happen. Your contribution will:
Support our team as they design and build this brand-new permanent exhibition with a novel approach to climate change conversations.

Make possible the development of educational programs to engage people across Utah and around the world with onsite, offsite, and online resources.

Help shape the climate conversation at a national level by furthering the Museum's work on A Climate of Hope, which was featured in a national journal article earlier this year and will be discussed in a new book about museums and climate change due to be published in 2023.
We hope you'll make a gift today!
And, we hope you'll also review the opportunities for us to thank you and your family in a permanent way on the Museum's Community Wall.
You can be involved in one of two ways:
Make a gift at the Community Wall level
Make a grassroots gift of $999 and below
This initiative is a top strategic priority for the Museum and an important development for our community. We are very grateful for your consideration of this special request, and hope you'll make a gift to help us build A Climate of Hope today.