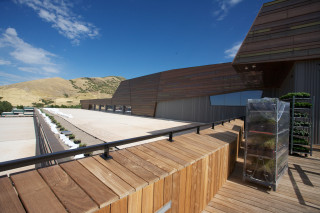 Our new home, the Rio Tinto Center, is a LEED Gold certified building. Leadership in Energy and Environmental Design (LEED) is an internationally recognized green building certification developed by the U.S. Green Building Council. The Natural History Museum of Utah aims to lead by example in the realm of sustainable design and operating practices. 
Sustainability in Action
Site design, energy efficiencies, recycled materials and operating practices contribute to NHMU's commitment to sustainability.
Areas disturbed during construction have been restored to their natural state, including natural gradation and the replanting of native vegetation.
The Rio Tinto Center incorporates light concrete pavement and white roofing material to reduce or eliminate elevated temperatures improving the surrounding environment and air quality.
Pervious concrete pavement covers the parking area allowing direct recharge of rainwater into the site's ground water system. 
The Museum site and the planted roof use water efficient landscaping.
Outdoor lighting has been designed specifically to not contribute to light pollution, achieving the LEED "dark sky" requirement. 
Two 10,000 gallon cisterns collect rainwater from the roof of the Museum to irrigate the entire Museum site. 
The Museum's solar panel installations is one of the largest in the state. At full buildout, the system is projected to include nearly 1,400 solar panels and provide more than 25%  of the energy needed to power the Museum. 
More than 75% of the Museum's construction waste was recycled including wood, metal, concrete, plastic and cardboard as well as office supplies. 
Approximately 20% of the structural and architectural materials were harvested, extracted and manufactured locally (within a 500-mile radius), resulting in a smaller carbon footprint and investment in regional and local economies. 
The site's stone walls, called "gabion walls", are constructed of stone taken from the original excavation for the building. 
High efficiency plumbing fixtures are used throughout the building to reduce water use.
At least 90% of regularly occupied spaces have access to daylight and outside views, reducing energy use. 
Motion detectors are located throughout the building to turn lights off depending on occupancy.