NOAA Heat Mapping Campaign
This summer, communities across Salt Lake City hit the streets to collect data about the distribution of heat in urban environments, as part of a regional effort to map where people are most at risk during extreme heat waves.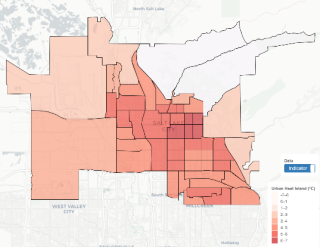 During this one-day heat mapping campaign, community volunteers used specially designed sensors mounted on moving vehicles to collect environmental data about the hottest and coolest places in Salt Lake City. Data collected will be used to develop heat index maps of SLC (see Seattle example) and help address heat-related vulnerabilities across the region.
The CAPA Heat Watch project is being hosted locally by Utah State University.
Here are some local new stories covering the campaign:
The SLC Heat mapping Campaign took place Saturday, July 15th, 2023. 
Volunteer sign-up has closed. Stay tuned for a public presentation of data coming in the next couple of months.