The Fremont left behind a legacy of beautiful and egnigmatic images carved and painted on stone.
Carved images are called petroglyphs and painted images are called pictographs.  Although they are best known for their depiction of trapezoidal anthrophmorphs and big horn sheep, the Fremont created a seemingly endless array of figures.  What purpose did these images serve?  Do they represent artistic expression? Do they have ritual significance?  Did they once have a literal translation? We may never be able to unravel the mystery of rock imagery and perhaps that's as it should be.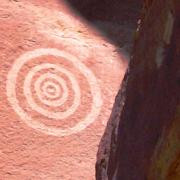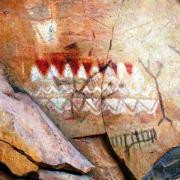 TREAD LIGHTLY TO PRESERVE OUR PREHISTORIC HERITAGE.