New Native Voices Enrich the Collections
Navajo weaver Rena Lane, right, examines a rug in NHMU's collections while sitting alongside her daughter Zena Lane. Image ©NHMU
By Michael Mozdy
In the wake of a devastating COVID-19 pandemic that disproportionately affected Native communities,1 NHMU's curator of ethnography, Alexandra Merritt Greenwald, PhD, secured a grant from the National Endowment for the Humanities to more fully document the stories and knowledge of Native communities in the region, including Navajo, Paiute, Ute, Shoshone, Goshute, and Puebloan groups. She is working with tribal leaders to identify and interview elders, artists, and knowledge keepers from the Native communities with homelands in the Great Basin, Colorado Plateau, and Southwest.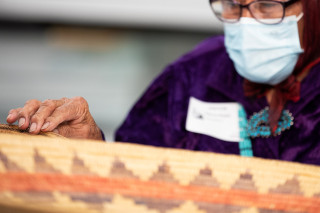 Greenwald is employing 5 graduate students in this important effort. They invite Native visitors into the museum and open all of its ethnographic collections for them to explore, both the public exhibits and the museum's back-of-house collections. Greenwald and her students record video and audio of these interviews so that they can:
Enrich the museum's understanding of the objects in its collections by centering Indigenous knowledge. NHMU's philosophy is that displaying beautiful and interesting objects to the public is the very baseline of what it can do—the museum would prefer to provide the appropriate cultural context for them. This contextual information includes the object's purpose, Indigenous language terms, how and why it was made and used, what designs might mean, any special religious or seasonal significance, and other insights that only Native perspectives can provide.
Develop websites for each of the tribes the museum works with that include photos, videos, glossaries, and more. Greenwald explains, "Ethnographic research with Native peoples is, by necessity, sort-of extractive. We don't want this type of relationship, so one of our goals is to catalogue this information specifically for the benefit of tribal communities." Importantly, these websites can be controlled by the tribes, by setting specific permissions about what type of information is available to which groups and when. They become, in effect, digital ethnographic collections that belong to the tribes from which they originate.
Provide meaningful compensation for consultants' time and contributions. Often, ethnographic research is done without paying the interviewees at all—assuming that the people who contribute are doing this out of sheer altruism (hence, the problem with this research being "extractive"). But Greenwald's NEH grant specifically budgets the resources to meaningfully pay these tribal elders and communities for their invaluable contributions to understanding their cultural artifacts.
Greenwald speaks reverently about the opportunity this grant has given her and her team. "It's been an honor to welcome tribal elders into the museum and hear what they have to say," she says. Often, younger family members who speak the tribe's Native language as well as English accompany the visitors to help translate.
"I've been told, 'I've never felt welcomed into a space like this before,' which makes me feel both happy and sad," she continues. This is a sign that the work she is doing is an important cultural bridge between these communities and modern U.S. culture. 
The knowledge gained is certainly a wonderful benefit, but Greenwald points to a different, more human connection as the real value. "As you sit with someone over hours," she explains, "you can see their guard slowly come down when they are met with unconditional respect and listening. They share more and more." This warmth—occurring over the shared experience of important cultural artifacts—unites Greenwald and the museum with the cultures they strive to share with the broader world.
Guests recently included 99-year-old Navajo weaver Rena Lane, who visited the ethnographic collections along with family members, including daughters Mary and Zena Lane, and nephew Sam Minkler. During the visit, both Rena and her family examined Navajo rugs and baskets from the collections and shared insights for audio and video recordings. 
"It made an impression on my aunt that people really value Navajo works and she was in a place that valued the rugs, and the culture, and the people," said Minkler after the visit. "And it adds validity to the research to ask input from someone who has been weaving for nearly a century."
Minkler was pleasantly surprised at how much his aunt opened up about her work, even singing sacred weaving songs for the recordings. He said it's rare for an older Navajo woman to quickly establish such trust, but in this case a good rapport was developed upon seeing the care and respect the museum gives work of Navajo weavers.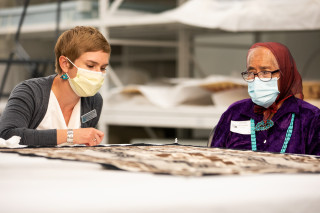 "To see that and to be invited into the sanctuary of preservation, that was sacred," he added. 
The museum's Native Voices grant lasts through 2022, although due to the challenges posed by the COVID Omnicron surge at the beginning of the year, Greenwald is seeking an extension through part of 2023. She continues to work through tribal leadership to identify important figures in Native communities to interview, and she has reached out to many of the artists who will be exhibiting during the Indigenous Art Market. 
"Of course," she adds, "I would always welcome people approaching us if they have stories that can help explain our objects in our collection."
1 The disproportionate impact of COVID-19 on Indigenous communities has been well documented in peer-reviewed scientific literature, as summarized by the CDC and later The Guardian. As authors Victoria M. O'Keefe and Melissa L. Walls write in a Brookings Institute piece, "Statistics are but written enumeration of the loss of our relatives: grandparents, parents, sisters, brothers, nieces, nephews, aunties, uncles, children, friends, community members. The loss of Elders is profoundly painful given their wisdom and status as cultural knowledge and language keepers."
Michael Mozdy is the Associate Director for Science Communications in the Department of Radiology and Imaging Sciences at the University of Utah and a part-time contributor to the Natural History Museum of Utah. Our mission is to illuminate the natural world and the place of humans within it. In addition to housing outstanding exhibits for the public, NHMU is a research museum. Learn more.