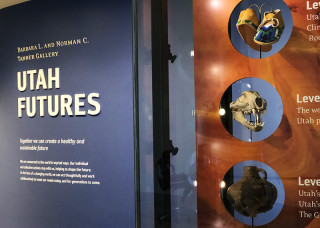 In this thought-provoking space "Utah Climate Challenge," a fast-paced multiplayer game, invites you to work with others to envision a healthy and sustainable future for Utah.
The game plays out on a vibrant projected panorama that evokes Utah's iconic landscapes and reflects collective impacts as play progresses. Players gather at five touch screen monitors and try to provide enough food, energy, and fun for Utah's growing population—all in the face of a changing climate, increasing pollution, and finite resources.
It's a complex and compelling experience of cause and effect through engaging, turn-based gameplay for guests of all ages. Come try your hand at "Utah Climate Challenge" and learn about the power of collaborative problem solving for your future.
The Utah Futures exhibition is located in the Barbara L. and Norman C. Tanner Gallery.