Wild World: Stories of Conservation & Hope
Stories of Conservation & Hope
Wild World is an immersive exhibit experience sharing conservation success stories from around the world. Full of life, the exhibit presents stories of wild animals and conservationists to show us why there is hope on the horizon.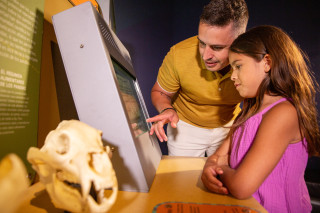 Wildlife populations around the world are under enormous stress due to pollution, deforestation, and habitat encroachment. Many species are becoming endangered while others are on the brink of extinction. But thanks to conservation efforts dedicated to animals large and small, there is much for which we can be hopeful. 
Produced by Little Ray's Exhibitions, one of the most extensive and diverse animal education and outreach organizations in North America, Wild World is staffed by trained educators and zookeepers!
Visit the exhibit and experience:
Real-life success stories from a wide range of conservation organizations
Live animals from key international conservation programs
More than 15 wildly interactive science-based experiences for guests of all ages
A multimedia theater that brings the story of Wild World to life for visitors
Multiplayer challenges that make learning about wildlife fun and engaging
On-site full-time educators providing one-on-one animal interactions and group presentations
Animal Encounters
Live animal encounters offer guests the opportunity to meet some of the animals from the exhibit. Guests will have the opportunity to learn about the animals' natural history, some of the myths and misconceptions surrounding them, and the conservation issues that they face in the wild. They will also learn about ways they can help these amazing creatures!
Animal encounters facilitated by dedicated animal handlers will take place at the following times.
Weekdays
Mondays, Tuesdays, Thursdays, and Fridays at 11 a.m., 2 p.m., and 3 p.m.
Wednesdays at 11 a.m., 2 p.m., 3 p.m., and 7 p.m.
Weekends
Saturdays and Sundays at 11 a.m., 1 p.m., and 3 p.m.
Exhibit Sponsors
Exhibit Sponsors
I.J. and Jeanné Wagner Charitable Foundation

Janet Quinney Lawson Foundation
Community Sponsors
The DiFiore Family Foundation

Ginger E. and Robert D. Wallace Foundation

JoAnne L. Shrontz Family Foundation

Marriner S. Eccles Foundation

R. Harold Burton Foundation

S.J. and Jessie E. Quinney Foundation