Angkor: The "Lost City" that Never Needed to be Discovered
Image via Unsplash
Note: Frontlines of Archaeology is the theme of NHMU's 2023 Lecture Series, which will feature speakers working at Angkor. Learn more and reserve free tickets here. 
By Grant Olsen 
Nothing gets people's hearts racing like the idea of a "lost city." The words conjure up images of exotic locations, thrilling discoveries, and ever-present danger. So it's not surprising they appear in the titles of countless books, are the name of a popular 2022 action film, and get thrown around with reckless abandon in news headlines.
Reading a novel about a mysterious civilization or watching Sandra Bullock evade danger in the jungle might be enjoyable entertainment, but it can be misleading and problematic to refer to many ancient cities as "lost."
One of the best examples of this phenomenon is the ancient city of Angkor in present-day Cambodia.
Was Angkor Ever Lost?
The vast metropolis of Angkor served as the center of a mighty Khmer Empire from the 9th to the 15th centuries. It covers 154 square miles and is home to 72 major temples and hundreds of smaller temple sites. The most famous is Angkor Wat, which was constructed to represent the Hindu universe. Spanning 400 acres, this awe-inspiring site is considered the world's largest religious monument.
So how could such a massive and significant complex of structures ever become lost?
In reality, Angkor was never lost to the Khmer people. They continued to live in the area and hold the temples sacred. While war, drought, and other factors might have caused the Khmer Empire to relocate then crumble, its legacy has lasted through generations.
The Problem with Inaccurate Claims of Discovery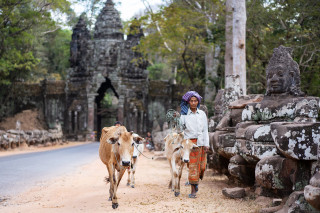 As with other supposedly lost ancient cities, Angkor was "discovered" by a Westerner who received guidance from locals. In other words, Francois Mouhot, the French explorer who sometimes receives credit for finding Angkor, could more accurately be described as one of its first tourists.
But the fact that people in the Western world were unaware of an ancient city's existence has traditionally been an adequate reason for them to dub modern visitors as "discoverers." And it discredits the knowledge and traditions passed down by indigenous peoples. All that matters in the common yet inaccurate Western narrative is that a great civilization once existed, and an explorer was intrepid enough to bring it to the world.
Searching the phrase "lost city of Angkor" in Google serves up more than two million results, many of which perpetuate the myth of a city that vanished from the face of the earth until it was discovered in the 1800s. Whereas, Angkor is both a window into a rich past and a living space where people carry out a way of life directly related to their Khmer ancestors.
"I prefer to call them forgotten cities or settlements. The majority of populations may not be aware of the empty sites, but often local peoples are still very aware of them," said Glenna Nielsen-Grimm, NHMU's anthropology collections manager. "In the [American] Southwest there is evidence that main 'abandoned' sites were revisited, with offerings made, they just were never inhabited again after a certain time."
Telling the Full Story
NHMU's special exhibition, Angkor: Empire of Cambodia, shares more of the Khmer culture and perspective. The exhibit, which opened in October of 2022 and will close on April 23, 2023, is on loan from MuseumsPartner and was developed in close collaboration with the National Museum of Cambodia.
Four museum specialists from Cambodia traveled to Utah when the exhibit arrived at NHMU. They worked with Museum staff to unpack objects and arrange displays, including great sandstone carvings and cast metal ornaments that showcase the craftsmanship of the Khmer people. Nearly all the art and artifacts are originals, making the exhibit a unique window into the Khmer Empire and a rare opportunity outside of Cambodia.
Some of the masterpieces included in the exhibit were looted in the past and were only recovered through painstaking efforts from Cambodian authorities. This exhibit represents the first time some of them have traveled outside the borders of Cambodia. It also highlights the importance of the National Museum of Cambodia's involvement, helping bring their country's culture to the world then returning the exhibit's priceless artifacts to their rightful home. 
In order to present even more authentic and balanced stories for the exhibit, NHMU invited members of Utah's Cambodian community to share input. Their contributions helped in modifying elements of the exhibit, and also played a major role in an opening celebration, offering blessings, stories, and dances. 
"Several members of our community have never shared our refugee stories publicly, and it was our pleasure to share our knowledge and culture with NHMU," said Ray Hour, one of the directors of the Utah Cambodian Community Buddhist Temple in West Valley City. "Many [of our community] have never been to see Angkor themselves. The Museum gave us the opportunity to learn more about our Cambodian heritage and to present a modern view of Cambodian culture in Utah."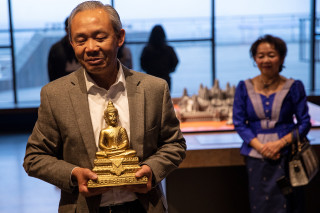 With the Cambodian community's input, the decision was also made to change the exhibit's original name from Angkor: Lost Empire of Cambodia to Angkor: Empire of Cambodia. Exhibit panels focusing on European discovery were also updated to better show the constant connection the Khmer community has had with Angkor.
Thanks to the contributions of the local Cambodian community, the exhibit is not only a representation of the ancient Khmer world, but a celebration of the rich culture they keep alive today.
Much More to Learn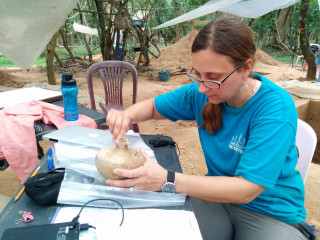 While there may not have been a true "discovery" of Angkor in the 1800s, there are still countless mysteries being uncovered as experts from Cambodia and around the world study the site and seek the knowledge of the modern Khmer people. One such expert is Dr. Alison Carter, an anthropological archaeologist and assistant professor of anthropology at the University of Oregon. Alison will be speaking about her years of research in and around Angkor in her upcoming Lecture Series appearance. 
With so much depth and beauty to uncover, Angkor will continue to inspire the world. And a visit to Angkor: Empire of Cambodia at NHMU will offer the chance for personal discoveries that will stay with you long after you leave the Museum.