Citizen Science Comes Alive Through Museum Projects
Museum volunteer Phillip Kinser photographs a fossil in NHMU's paleontology colleciton as part of a museum-wide digitization initiative supported by citizen science. ©Carrie Levitt-Bussian | NHMU
By Grant Olsen 
As we celebrate Citizen Science Month, it's a great opportunity to recognize the impact that citizen scientists have made on the Museum's collections. And our ongoing digitization projects are offering opportunity for citizen science to play an integral role in the modernization of museum collections expanding their accessibility to the world. 
What Is Citizen Science?
The term "citizen science" offers a collective label for the many contributions made by everyday people to scientific research in various disciplines.  
Citizen scientists often possess a passion for science that drives them to volunteer time and provide unique perspectives to a range of research projects. In 2022 alone, 243 citizen scientists spent approximately 5,355 hours assisting with digital transcription. At the Natural History Museum of Utah, citizen scientists have contributed to numerous projects in collaboration with trained scientists, fulfilling tasks ranging from specimen and data collection to the preparation of fossil specimens.
Citizen Science and Museum Collections
The Museum's collections represent the work of scientists, professors, and enthusiasts who have gathered specimens or artifacts and painstakingly recorded their relevant data in a highly organized and ever-growing library of natural history. These long-term, physical records provide insights into how organisms have changed due to urbanization, how ecosystems change due to introduced species, how environments change under a warming climate, what species have been driven to extinction or forced to relocate, and much more.  
The collections are immensely valuable, both to scientists and public knowledge, and are therefore protected under lock and key. Safe storage of objects in immaculate, climate controlled, pest free, and infrequently accessed spaces ensure their preservation and study for years to come.  
So how does a museum navigate the contradiction of protecting collections while ensuring access to the masses? Through digitization of approximately 2 million specimens housed in NHMU. Digitization of objects—photographing them for sharing in online databases—is key to opening the proverbial vaults so that the world can see and study these objects online.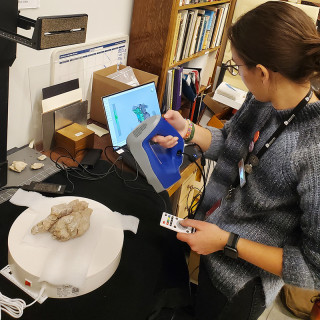 And this digitization initiative was the impetus for greater citizen science involvement at the Museum. 
"We create collections-based citizen science projects to build awareness of the rich regional biodiversity over time," says Alyson Wilkins, the Museum's collections digitization coordinator. "It helps us pull data from physical records and objects, making it available to the larger scientific community. It also showcases the work of scientists and citizen scientists who have and continue to work at the museum." 
A notable example of citizen science in action is the Museum's ongoing digitization and transcription of the botany collection housed in the Garrett Herbarium, in which some plant specimens date back to the 1700s. With roughly 150,000 physical botany specimens and mountains of associated data in print-form, it was imperative that the Museum digitize collection to improve access. This has required an array of talent and energy to do so, and fortunately, more than 1,000 volunteer citizen scientists from around the globe have joined in. 
Here is how the process works:
Museum staff or volunteers photograph a collection
Photographs containing text (such as labels and field notes) are added to an online database called Digivol
Members of the public, citizen scientists, are invited to view these photographs and transcribe the text
The photos and associated transcription are all saved in an online database and are part of the Museum's digitized collection
Another example of citizen science in action at NHMU is a recently completed digitization project focusing on mammal research. 20,956 specimens in the mammal collection, including tags featuring scientific data, were photographed with the associated data transcribed and uploaded to an online database.  
It was the Museum's first ever digitization and transcription project. In fact, it was one of the first projects of its kind undertaken by any museum in the United States, leading more museums to follow suit.  
Community Contributions Continue
With nearly 2 million objects in NHMU's collections, there is still plenty more digitization work to be done and the Museum is about to launch a new digitization project with the support of citizen science.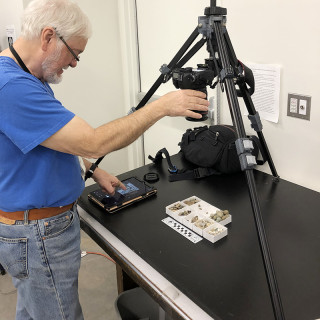 "Our upcoming transcription project launching at the end of Citizen Science Month is about our fantastic insect collection," explains Wilkins. "Specifically, there is a recently acquired collection from amateur collector Vasco Ray Taylor."
The collection features a stunning array of Lepidoptera (the order of insects that includes butterflies and moths). All have associated data vital to understanding species proliferation, migration, and even extinction. And, once again, the public's assistance with digitization and transcription will play an important role in making this collection more valuable to the scientific community worldwide. 
"Community members have always played a valuable role in helping to grow collections and research at the Museum," says Ellen Eiriksson, citizen science manager. "I love that the Museum's digitization initiative links today's citizen scientists with historical contributions from the community." 
If you are interested in learning more about the Museum's ongoing digitization and transcription projects, please visit the digitization web page. You'll find information on how citizen scientists are assisting with the Museum's goal of illuminating the natural world, and how you can get involved in one of numerous exciting initiatives.