We hope you enjoy exploring Polar DinoFest online. But, be sure to stay up to date with the latest DinoFest at NHMU!
In 2021, NHMU's fifth-annual DinoFest, a celebration of all things dinosaur, was hosted online over 10 weeks as we explored the world of Polar Dinosaurs.
Snack-sized DinoBite videos were produced to give you just the right amount of dinosaur drama to start your day in 20-minute presentations from featured paleontologists. Two in-depth keynote presentations were also aired in weeks one and six for the hardcore dinosaur fans. (We see you.)
All our Polar DinoFest videos are posted here and on our YouTube channel for you to enjoy at your leisure.
Can't get enough DinoFest? Explore past years' themes and speakers here.
---
Keynote Speakers
DinoFest keynote talks are always the highlights of the festival. In 2021, we were thrilled to welcome Peter Makovicky and Holly Woodward Ballard, experts in polar dinosaurs and their modern-day relatives. (Can you guess who some of those relatives are? Tune in and see for yourself.)
Polar DinoFest Keynote Speaker Peter Makovicky
Frozen Fossils: Mesozoic Paleontology of Antarctica
Peter is a professor in the Department of Earth and Environmental Sciences at the University of Minnesota, where he studies evolutionary patterns and processes in the fossil record. In addition to field work in Antarctica, Peter's research has taken him to China, Argentina, and around the U.S.

Peter's keynote video is available here.
Polar DinoFest Keynote Speaker Holly Woodward Ballard
A Dinosaur for All Seasons: Fossil Bone Microstructures Reveal the Life Histories of Permanent Polar Residents
Holly is an associate professor of anatomy and paleontology at Oklahoma State University's Center for Health Sciences, where she studies the microscopic structures inside fossil bones to better understand the age, annual growth rate, maturity status, and health of extinct dinosaurs such as Maiasaura and Tyrannosaurus.

Holly's keynote video is available here.
---
DinoBites!
Don't miss these ten snack-sized paleontology presentations that will each pack a lot of information into just 20-minute videos!
Kerin Claeson
Sea Monsters from Seymour Island Antarctica — What Swam in the Oceans While Dinosaurs Roamed the Land?

Kerin, a paleoichthyologist and an anatomist, is an associate professor of anatomy in the Department of Bio-Medical Sciences at the Philadelphia College of Osteopathic Medicine. Her research focuses on the skeleton of fishes over time.
Watch Kerin's DinoBite talk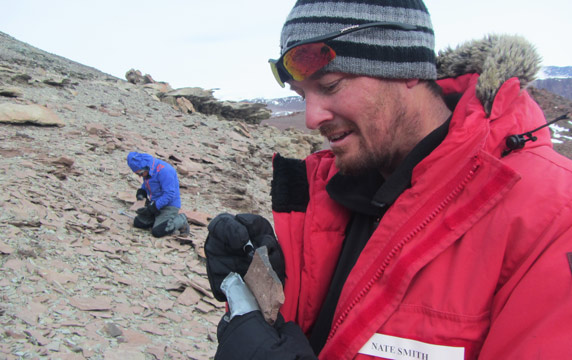 Nate Smith
From Dicynodonts to Dinosaurs: Evolution and Biogeography of Early Mesozoic Faunas of Antarctica

Nathan is the associate curator at the Dinosaur Institute of the Natural History Museum of Los Angeles County. His research focuses on the origins and early evolution of dinosaurs. His work is featured in the traveling exhibition, Antarctic Dinosaurs, at NHMU.
Watch Nate's DinoBite talk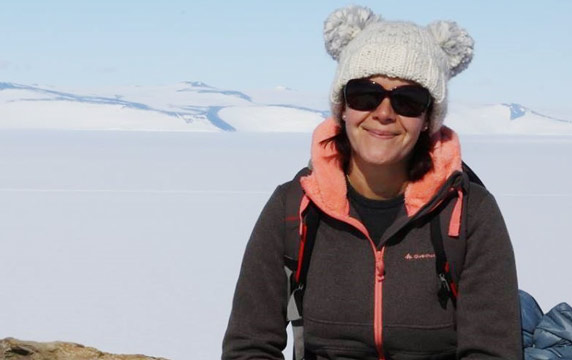 Anne-Laure Decombeix
Reconstructing the Triassic Forests of Antarctica

Anne-Laure is a paleobotanist for the French National Centre for Scientific Research in Montpellier, France. She studies fossils from various parts of Europe, Australia, North Africa, and Antarctica to understand the plants that were growing in these regions during the Paleozoic and early Mesozoic.
Watch Anne-Laure's DinoBite talk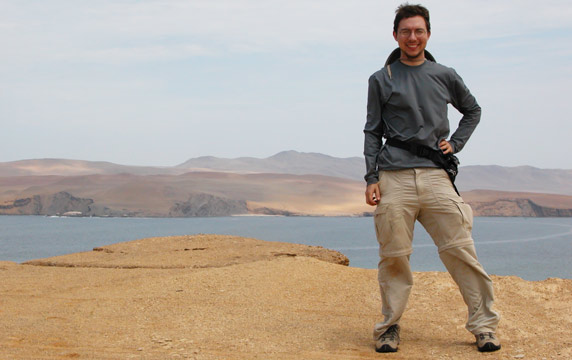 Dan Ksepka
March of the Fossil Penguins

Dan is the curator of the Bruce Museum in Greenwich, Connecticut. His research focuses on the evolution of birds, with a special interest in penguins. This work has taken him on expeditions in the United States, New Zealand, and South America.
Watch Dan's DinoBite talk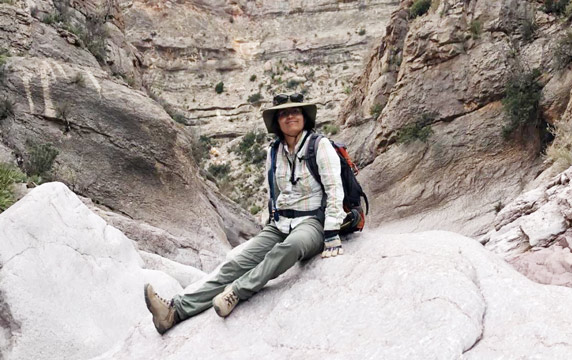 Marina Suarez
Polar Climate in the Times of Dinosaurs

Marina is an associate professor of geology at the University of Kansas. She studies ancient continental environments to understand Earth's climate past, especially deep Earth history such as the Cretaceous Period.
Watch Marina's DinoBite talk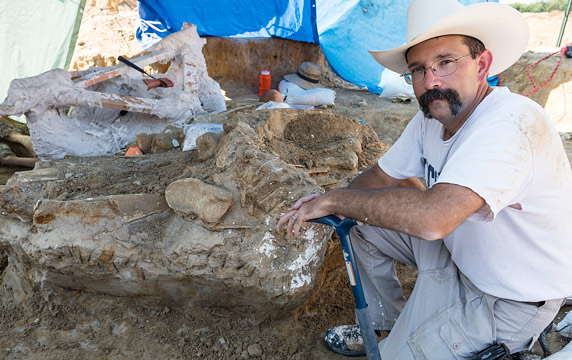 Ron Tykoski
Dinosaurs in the Land of the Midnight Sun

Ron is the director of paleontology and curator of vertebrate paleontology at the Perot Museum of Nature and Science in Dallas, Texas. There, he is working on the dinosaur species currently known from the Cretaceous of Arctic Alaska.
Watch Ron's DinoBite talk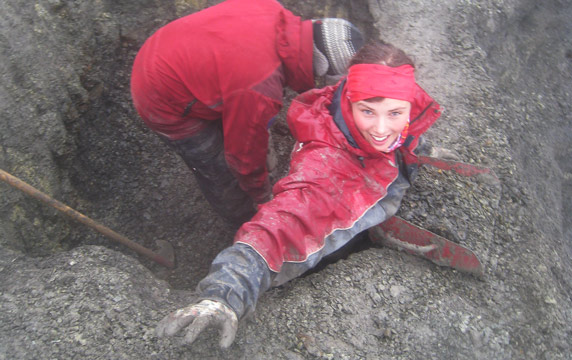 Aubrey Roberts
Sea Monsters from the Jurassic Arctic

Aubrey is a post doctoral researcher in paleontology at the University of Oslo Natural History Museum, Norway. Her current research project investigates the recovery of life in Norway's Arctic region after the greatest mass extinction of all time.
Watch Aubrey's DinoBite talk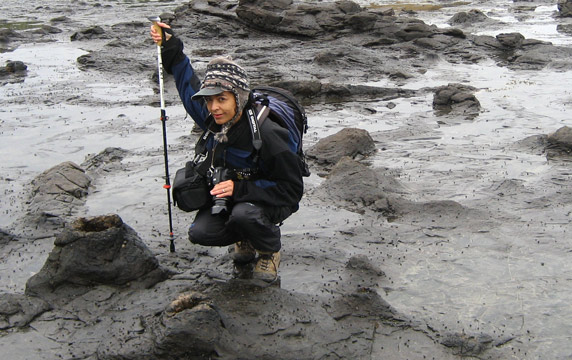 Karen Chin
Marine Life in a Cretaceous Arctic Ecosystem

Karen is the curator of paleontology at the University of Colorado Museum of Natural History, and a professor in the Department of Geological Sciences at University of Colorado, Boulder. Karen's research focuses on reconstructing ancient ecosystems.
Watch Karen's DinoBite talk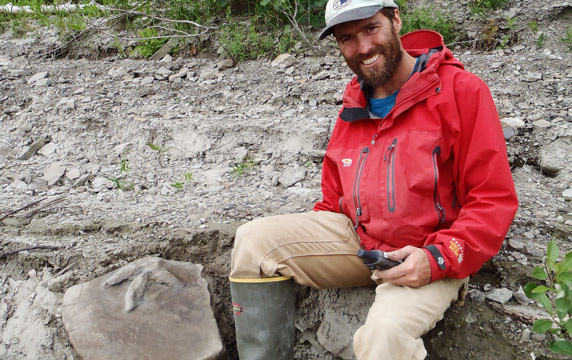 Pat Druckenmiller
Nurseries of the North: Baby Dinosaurs from Arctic Alaska

Patrick is the director of the University of Alaska Museum of the North, and professor of geology at the University of Alaska Fairbanks. His research focuses on Mesozoic marine reptiles and dinosaurs, particularly those from high latitudes.
Watch Pat's DinoBite talk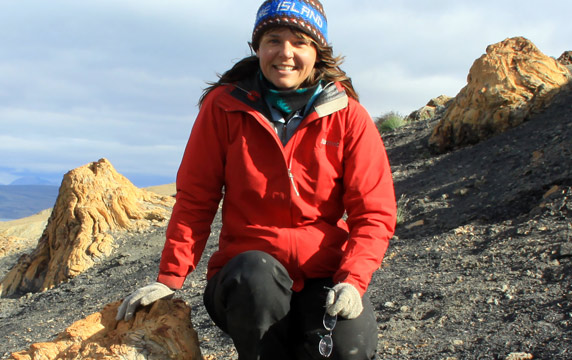 Jaelyn Eberle
Finding Fossil Mammals in Canada's High Arctic

Jaelyn is the director of the Museum and Field Studies Program and curator of fossil vertebrates at the University of Colorado Museum of Natural History, and a professor in the Department of Geological Sciences at the University of Colorado, Boulder. Her research concentrates on the study of ancient mammals during past intervals of climate change.
Watch Jaelyn's DinoBite talk
---
Live Conversations
On our kick-off weekend we hosted six live panels with our DinoFest paleontologists, who introduced their work and answered questions from the audience. See the recorded sessions below.
Live with DinoFest Keynote Paleontologist Peter Makovicky.
Live with Keynote Paleontologist Holly Woodward Ballard.
Live with Paleontologists Anne-Laure Decombeix, Nate Smith, and Marina Suarez.
Live with Paleontologists Pat Druckenmiller and Kerin Claeson.
Live with Paleontologists Aubrey Roberts, Dan Ksepka, and Karen Chin.
Live with Paleontologists Jaelyn Eberle and Ron Tykoski.
---
Keep Exploring Paleontology at NHMU
The Natural History Museum of Utah is your go-to resource for all things dinosaurs! From behind-the-scenes tours of the Museum's collections to educational activities for aspiring paleontologists, scroll through and follow the links below to explore more paleontology at NHMU.
---
Polar DinoFest Kids Activities
These activities and videos were produced by NHMU's Teen Explainers for the youngest dinosaur enthusiasts joining us for Polar DinoFest!
---
Polar DinoFest is supported by: