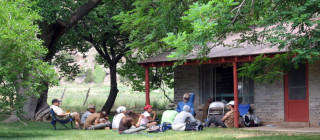 Staff members coordinate and accommodate research project proposals from a wide range of disciplines from colleges, universities, agencies, and interest groups from Utah and beyond.  Hundreds of individuals working on dozens of research projects have experienced the comradely atmosphere.  Research teams depart each morning and return to camp each evening to share a communal dinner. Evening conversations generally focus on the discoveries and accomplishments of the day.  The same sense of common purpose and spirit is shared by the many who have volunteered their time, energy, and services toward making the field station a comfortable base of operations.
Prehistory
This fourteen mile long "slice" of the past presents modern day researchers with the unexpected and unprecedented opportunity to study human adaptation in a variety of environmental settings that are physically linked in a single integrated and definable system.  Completing an archaeological inventory of the more than 50,000 critical acres drained by Range Creek is a daunting task and will take decades to complete.  Research opportunities for scientists and their students are limited only by their imagination and current technology, both of which will continue to become more sophisticated in the future.
Read more about Range Creek's prehistory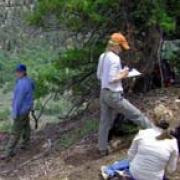 University of Utah Archaeological Field School
Each summer since 2003 the U of U Archaeological Field School provides student's instruction in archaeological method and theory, Fremont prehistory, paleoenvironemntal reconstruction, basic GPS and GIS technology, survey methods, experimental research, and excavation techniques.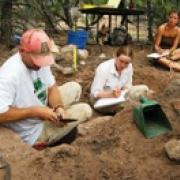 Graduate School in Anthropology
Graduate students, especially those with an archaeological focus, are encouraged to participate in research at the field station, by designing and implementing projects that investigate variability in past human behavior.  Projects exploring the costs and benefits of hoarding behavior, GIS based catchment analysis, ceramic sourcing, and vandalism prevention are just a few of those that have been implemented.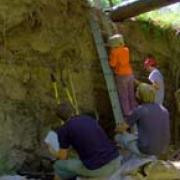 University of Utah Field Studies for Geographers
The U of U Geography Department offers a 10 day field course Paleoenvironmental Field Methods for Geographers conducted in conjunction with the archaeological field school.  Led by Professor Larry Coats the program is designed to teach methods used by paleo-researchers to reconstruct past environments on local and regional scales.  Students receive training in a variety of field techniques including survey and mapping with an emphasis on sample collection, description and analysis.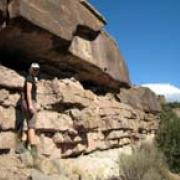 University of Utah Department of Geology & Geophysics
 Under the guidance of Professor Cari Johnson, the Sedimentary Geology Research Group at the University of Utah is studying the geology of Range Creek. Rocks exposed in Range Creek Canyon are Paleocene to Middle Eocene age (~65-45 Ma), ranging from the Paleocene Flagstaff limestone (exposed at the south end of the canyon) to the Paleocene-Eocene Colton Formation.  Eocene Green River Formation is exposed in the Valley Mountain plateau area, above ~2600 m elevation.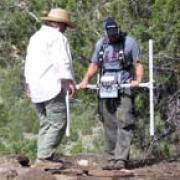 Collaborative Projects and Independent Research
Environmental Monitoring
Beginning in 2011, the Range Creek Field Station coordinated monitoring studies designed to provide quantitative baseline data to better manage its conservation values.